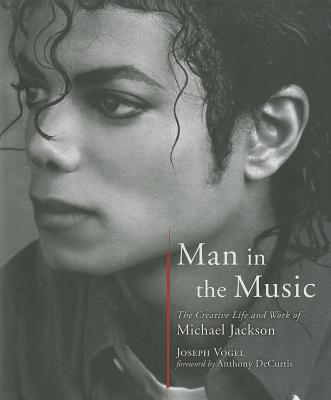 Man in the Music: The Creative Life and Work of Michael Jackson (Hardcover)
The Creative Life and Work of Michael Jackson
Sterling, 9781402779381, 306pp.
Publication Date: November 1, 2011
* Individual store prices may vary.
or
Not Currently Available for Direct Purchase
Description
This is the book that serious Michael Jackson fans crave--one that forgoes sensationalism in favor of an insightful look at Jackson's work and creative process.
Man in the Music meticulously tracks Jackson's solo career--from 1979's groundbreaking Off the Wall to 2001's Invincible to his yet-to-be-released material. Vogel analyzes every song and album, placing the music in its social, historical, cultural, and even personal context. The result is an in-depth assessment of one of the most compelling, influential artists in popular music history.
About the Author
JOSEPH VOGEL is the author of three books, including "Man in the Music: The Creative Life and Work of Michael Jackson." He writes about popular music and culture for "The Huffington Post" (huffingtonpost.com/joe-vogel) and PopMatters (popmatters.com/pm/archive/contributor/791/) .Vogel has written several exclusive pieces on Michael Jackson, including the first US review of the posthumous album, "Michael," and the groundbreaking monograph, "Earth Song: Inside Michael Jackson's Magnum Opus." He currently resides in New York where he is a doctoral candidate and instructor at the University of Rochester. "
Praise For Man in the Music: The Creative Life and Work of Michael Jackson…
"The many fans of the King of Pop are going to love this book. Huffington Post writer Vogel began it in 2005, long before Michael Jackson's untimely death, and he wisely focuses on the music and groundbreaking recordings of Jackson's solo career. Scandals and eccentricities are relegated to the background in this critical musical analysis, which will delight even the most knowledgeable Jackson fan. Each track on each record, fr om 1979's Off the Wallthrough 2001's Invincible, including posthumously released recordings, gets a thorough analysis, with listings of the involved writers, producers, and musicians. There is plenty of contextual biographical detail, and Vogel describes the cultural and political backdrop that makes Jackson's achievements all the more remarkable. VERDICT A thoroughly enjoyable analysis of the music and life of the most popular musician of an era."--Library Journal 

"Vogel produced a smart...study of Jackson's creativity and legacy. He achieves moments of intimacy and insight: a glimpse of Jackson, an ambitious perfectionist. Vogel occasionally undermines his hard work by giving Jackson a makeover as a romantic hero rather than a celebrity. Readers will enjoy."- Publishers Weekly  
  
Advertisement