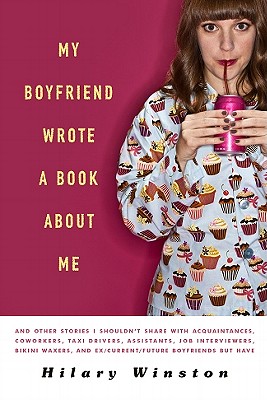 My Boyfriend Wrote a Book about Me (Hardcover)
And Other Stories I Shouldn't Share with Acquaintances, Coworkers, Taxi Drivers, Assistants, Job Interviewers, Bik
Sterling, 9781402779794, 226pp.
Publication Date: May 3, 2011
Other Editions of This Title:
Paperback (5/1/2012)
Paperback (5/1/2011)
* Individual store prices may vary.
Description
TV writer Hilary Winston offers up a witty collection of autobiographical tales about her misadventures in dating.
Just when Hilary feels like her life is finally in order, she gets a sucker-punch to the gut: Her ex has written a novel based on their relationship in which he refers to her throughout as the fat-assed girlfriend. Her response to this affront is just one of the many hilarious stories in "My Boyfriend Wrote a Book" "About Me"--a laugh-out-loud, tell-all in which Hilary sets the record straight on all her exes.
About the Author
Hilary Winston is currently working as a writer and producer of the critically acclaimed comedy "Community "and was one of the writers for the Emmy(r)-award-winning show "My Name is Earl." She began her writing career by getting people coffee at various places like National Public Radio and Hollywood Squares. She can now proudly say someone else gets her coffee. Unfortunately, she doesn t like coffee. Winston lives in Los Angeles.."
Praise For My Boyfriend Wrote a Book about Me: And Other Stories I Shouldn't Share with Acquaintances, Coworkers, Taxi Drivers, Assistants, Job Interviewers, Bik…
"Winston's memoir is funny, sensitive, and in the end accomplishes what her ex-boyfriend's novel never could--brazenly tell a story of their relationship destined for the nonfiction shelves." --Booklist "The stories--snappy, sparse, and conversational--are no-holds barred."--Women's Wear Daily "A heartfelt and hilarious look at single life in L.A."--Hollywood Reporter "An unflinchingly honest tome that is so insightful and funny."--New York Post "Perhaps it's not a typical tale. But then again, nothing is usual in the life of Hilary Winston as she hilariously chronicles in her [book]. . . . Winston bares it all with comedic flair, from seeing just what her ex-boyfriend thought of their five years together (in a nationally distributed novel, no less) to all the not-so-glorious relationships that came before and after."--Metro New York "Winston's story is emotionally revealing, easy to relate to, and always hilarious."--Back Stage "With self-deprecating schadenfreude, Community writer Hilary Winston sets her relationship story straight."--More magazine
 
"A laugh-out-loud, tell-all in which Hilary sets the record straight for all her exes."--WPIX 11 Morning News
 
"Winston's guiding philosophy appears to be: If it's too embarrassing to talk about, publish it. Her brutal, naked honesty is what anchors the book and makes it both so moving and so entertaining."--Slate.com
or
Not Currently Available for Direct Purchase