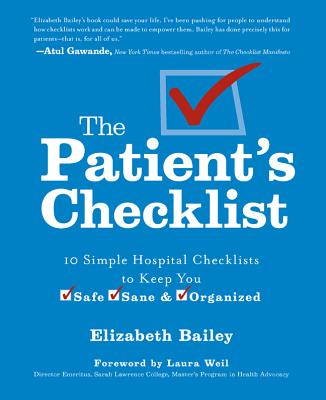 The Patient's Checklist (Spiral)
10 Simple Hospital Checklists to Keep You Safe, Sane & Organized
Sterling, 9781402780585, 133pp.
Publication Date: January 3, 2012
* Individual store prices may vary.
Description
Every year, thirty-five million Americans become hospital patients and more than fifty million surgeries are performed. Each of those patients--whatever their resources--confronts the same obstacles to good, safe care.
From a trip to the emergency room to open heart surgery, all patients can experience not just perplexing and impersonal care but serious communication and safety issues that can put them at risk. That's why "The Patient's Checklist" is so important. It addresses an enormous need, and yet there is no other book available that's like it. Based on firsthand knowledge, Elizabeth Bailey has created ten checklists that provide a simple system for better managing, monitoring, and participating in your hospital care. These checklists can play a big role in guarding against error and promoting compassion in care, so that a patient is not only cured but also healed.
About the Author
As a producer, director, and vice president of video production for several major record labels, Elizabeth Bailey developed and used checklists to oversee the production of hundreds of music videos. While helping family and friends navigate their hospitalizations, she realized how production checklists could be adapted to successfully manage the complexities of patient care. She is currently completing studies for a Master's in Health Advocacy at Sarah Lawrence College and working part-time as a patient representative at a major teaching hospital. She lives in New York with her husband and son.
Praise For The Patient's Checklist: 10 Simple Hospital Checklists to Keep You Safe, Sane & Organized…
"Elizabeth Bailey's book could save your life.  I've been pushing for people to understand how checklists work and can be made to empower them. Bailey has done precisely this for patients- that is, for all of us."
-Atul Gawande, New York Times bestselling author of The Checklist Manifesto
"Elizabeth Bailey's book puts a human face on the devastating toll medical errors have on patients and their families, and clearly shows that when we use checklists to improve the quality of care, we save lives. I have seen the power of this important tool; using checklists in a hospital setting, we nearly eliminated bloodstream infections, a preventable disease that kills about as many people every year as breast cancer. Imagine what the simple checklists in this book can do for you."
-Peter J. Pronovost, MD, PhD, FCCM, co-author, with Eric Vohr, of Safe Patients, Smart Hospitals: How One Doctor's Checklist Can Help Us Change  Health Care from the Inside Out "The Patient's Checklist should be in the hands of all families in the event of a hospital stay. The information could save your or a loved one's life."
--Christiane Northrup, M.D., ob/gyn physician and author of the New York Times bestsellers Women's Bodies, Women's Wisdom and The Wisdom of Menopause
 
or
Not Currently Available for Direct Purchase