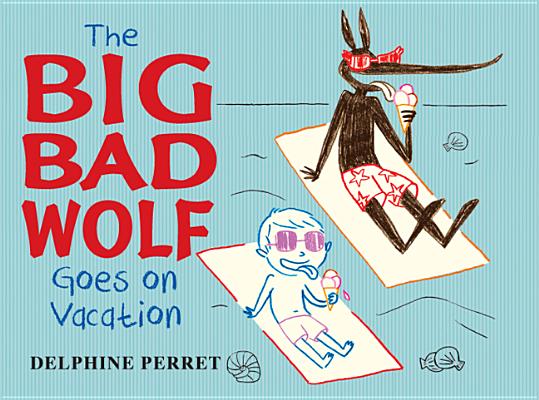 The Big Bad Wolf Goes on Vacation (Hardcover)
Sterling, 9781402786334, 64pp.
Publication Date: March 5, 2013
* Individual store prices may vary.
Description
The BIG BAD WOLF is back--and funnier (but not scarier) than ever
Doesn't a wolf deserve a vacation, too? Bernard, the clever, cookie-munching hero of Delphine Perret's award-winning book, certainly thinks so. So when he learns that his pal Louis is vacationing by the sea with his grandpa, Bernard wants to go too. Soon they're off on a wacky road trip that ends with the perfect day on the beach. This much-anticipated sequel to the award-winning The Big Bad Wolf and Me is every bit as delightful as the first...and well worth the wait.
About the Author
Delphine Perret is the author-illustrator of numerous children's books published in France. The Big Bad Wolf and Me (Sterling) was the first to be published in the United States, and now, seven years later, she decided she was ready to revisit Bernard and his best friend, Louis. Delphine lives in Lyon, France, with her family.
Praise For The Big Bad Wolf Goes on Vacation…
"Bernard, the Big Bad Wolf who lives in Louis' closet, is back (The Big Bad Wolf and Me, 2006). Huzzah! Bernard is pretty much under control, and he's even vegetarian (except for fish), so why shouldn't he go on vacation with Louis and his grandpa? It's not as easy as one might imagine. Grandpa takes to the talking wolf quite easily, although Bernard hates pretending he's a dog. He can't help choose sandwiches, for example, since Louis is afraid the wolf will forget to walk on four legs and not to talk. 'I am wounded by your lack of trust' says Bernard haughtily. They even argue over who will be first in the water (it turns out to be grandpa). Twelve chapters are done in comic-book style, with multiple squiggly sketches that seem artless but are vividly funny. Human figures are blue, the elongated and angular wolf is brown and solid (everyone else is linear), and the occasional crab or cow is done in rust or maroon. The language remains simple, accessible, charming and quite funny in this nifty follow-up. Readers may find metaphors about imaginary friends, taming one's fears or having special fun with grandparents, but mostly, they will go from giggles to guffaws with this disarming trio." --Kirkus Reviews (STARRED REVIEW)   

Praise for The Big Bad Wolf and Me:
A Miami Herald Best Book
A Nick Jr. Family Magazine "Editors' Pick"
"A little boy coaches a frightened wolf back to big-badness . . . both sophisticated and sublimely silly, this should please readers and listeners of all ages." —Kirkus (starred review)
"This charming book sings with humor." —School Library Journal
"Sophisticated humor makes the tale of an unlikely friendship between a boy and a down-on-his-luck wolf a chapter book not to be missed." —Nick Jr. Family Magazine
"Irresistible . . .  replete with the kind of ironic-cool humor and subtlety that made the 'Calvin and Hobbes' cartoons so beloved . . . takes simplicity and the art of the drawn line to admirable heights." —The Boston Globe
or
Not Currently Available for Direct Purchase