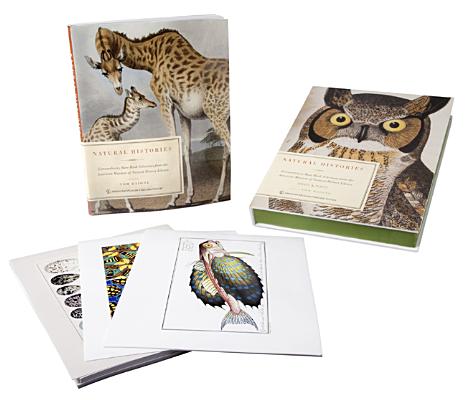 Natural Histories (Hardcover)
Extraordinary Rare Book Selections from the American Museum of Natural History Library
Sterling Signature, 9781402791499, 176pp.
Publication Date: October 2, 2012
* Individual store prices may vary.
Description
For the first time, Natural Histories allows readers a privileged glimpse of seldom-seen, fully illustrated scientific tomes from the American Museum of Natural History's Rare Book Collection. Forty essays from the museum's top experts in a variety of natural science disciplines, from anthropology to zoology, enhance and discuss each rare work's unique qualities and scientific contribution. Packaged with 40 extraordinary prints suitable for framing, this deluxe edition will fascinate both natural science and art lovers alike.
About the Author
Tom Baione is the Harold Boeschenstein Director of Library Services in the American Museum of Natural History's Library and oversees all aspects of the library's functions. An active member of the Grolier Club, Tom divides his time between Manhattan and Long Island.
Praise For Natural Histories: Extraordinary Rare Book Selections from the American Museum of Natural History Library…
"...a truly stunning collection of rare prints covering a litany of topics. Whether readers choose to focus on the 40 prints just begging for frames that are included in the box or the often breathtaking images in the book itself, they'll quickly find themselves sucked into this fantastically assembled and informative work of natural and human history . . . armchair naturalists, archeologists, and anthropologists will have a field day with this lovingly curated collection. Remarkable for its editing as well as its breadth of scope (even the binding of Victorian natural history books is studied), this gem of a book is one of the best in its class." --Publishers Weekly (Starred Review)
"...this collection from the AMNH is sure to please. It presents rare essays and artwork about the natural sciences along with a selection of prints for display." --TIME magazine
"Baione (dir., American Museum of Natural History Lib.) examines book illustrations found in the library of New York City's American Museum of Natural History. The volume also gathers 40 essays written by the museum's librarians, researchers, curators, and administrators. They discuss woodcuts, etchings, engravings, and lithographs from books published between the 16th and early 20th centuries on topics in the natural sciences. The book presents many full-page, color reproductions of illustrations of insects, sea animals, birds, and mammals, accompanied by historical descriptions. Also included is a 19th-century astronomical atlas and a collection of portraits of Native Americans. The museum has published many books that discuss its collections...Baione's is the first to focus on book illustrations. It is packaged with 40 frameable prints. VERDICT - Combining well-chosen reproductions and interesting essays, this book would be a great choice for readers of National Geographic and the like." --Library Journal