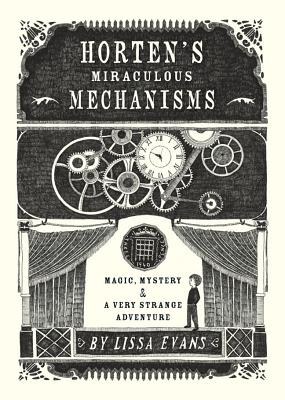 Horten's Miraculous Mechanisms
Magic, Mystery, & a Very Strange Adventure
Hardcover

* Individual store prices may vary.
Description
Enter a wonderful world filled with real magic, mystery, and danger.
As if being small and having S. Horten as his name isn't bad enough, now 10-year-old Stuart is forced to move far away from all his friends.But on his very first day in his new home, Stuart's swept up in an extraordinary adventure: the quest to find his great-uncle Tony--a famous magician who literally disappeared off the face of the earth--and Tony's marvelous, long-lost workshop. Along the way, Stuart reluctantly accepts help from the annoying triplets next door... and encounters trouble from another magician who's also desperate to get hold of Tony's treasures.
A quirky, smart, charming page-turner, Horten's Miraculous Mechanisms will enchant young readers--as well as teachers, librarians, and parents. Long-listed for the Carnegie Medal (2012) and the Guardian Children's Fiction Prize (2011)

Praise For Horten's Miraculous Mechanisms: Magic, Mystery, & a Very Strange Adventure…
"Wacky, funny and ever so mysterious, this clever tale hits the ground running and never lets up.Very short 10-year-old Stuart Horten—S. Horten, get it?—thinks he's facing a long, boring summer when his parents pack the three of them up and move to his father's hometown as school lets out. His parents are a pleasantly oblivious pair: His mom is an unimaginative doctor, and his father designs crosswords for a living. (He joyfully tosses around hundred-dollar words like 'prestidigitator' and 'perambulation.') Stuart quickly discovers the long-abandoned home of his great uncle Teeny-Tiny Tony Horton, a famous magician who disappeared 50 years before, and the puzzle box left to his incurious father. Resourceful Stuart wants to learn more, but he's plagued by the girl next door, who's intently following him everywhere. Just as a fabulous clue appears in a vandalized phone booth, the prying girl, April, shows up, and it turns out she's identical twins—oh, no! triplets—April, May and June. And they're shortly followed by the villainous, entrepreneurial Jeannie, hot on Stuart's heels. The pace is rapid, the clues to Tony's disappearance are intriguing and the characters are vividly—often hilariously—drawn. Irony runs hand in hand with just enough believable danger to create palpable tension.A vastly engaging, must-read mystery infused with the perfect touch of captivating conjuration—er, magic." --Kirkus Reviews (Starred Review)  "Evans borrows several classic tropes and themes-magic, riddles, a quest, and even a night at a museum-for the entertaining story of 10-year-old Stuart Horten (often nicknamed "Shorten" for his small stature) who stumbles into a family mystery when he and his parents move to the small British town of Beeton. There, Stuart discovers that his Great-Uncle Tony Horten, who disappeared years ago without a trace, was both an inventor of mechanical devices and a magician. A chance phone call in a broken phone booth is the first step in a journey that leads Stuart around town, as he unearths his great-uncle's legacy and secrets. Stuart also draws the attention of April, May, and June (the journalistically inclined triplets next door), as well as Beeton residents with more sinister intentions. Evans has crafted an old-fashioned mystery of the kids-besting-clueless-adults variety. Stuart's dweeby parents are particularly hapless (his father, a crossword puzzle creator, regularly drops lines like "Behold, I bring hydration for your powwow"). First published in the U.K., Evans's story leaves the door open for the sequel due in September." --Publishers Weekly
"Stuart is a likable, plucky little guy, the Charlie Bucket to great-uncle Tony's Willy Wonka…The elements of magical realism that waft through the narrative keep things humming along nicely. This British import, long listed for the Guardian Children's Fiction Prize, leaves the door ajar for more adventures." --Booklist "Small Stuart embarks on an awfully big adventure in this quirky puzzle-solving novel….Each more curious than the one before, the far-fetched solutions they require bring the book to a hugely satisfying conclusion." --The Guardian
 "An adventure that will enthrall smaller people and the adults reading to them in equal measure." --The Independent
"The action cracks along at a good pace and is a brilliant pre-teen magical mystery story." --The Bookbag
"This story has time travel, dastardly villains, lots of machinery and some seriously good adventures!" --Fun Kids 
Sterling Children's Books, 9781402798061, 272pp.
Publication Date: April 3, 2012
About the Author
Lissa Evans's route to children's fiction author is perhaps as roundabout as Stuart's adventures in Beeton. After a brief career as a doctor of medicine and then in stand-up comedy, Lissa became a comedy producer, first in radio and then in television, before turning to writing. She has penned books for adults as well as picture books for children. This is her first middle-grade novel. Lissa lives with her family in North London.
or
Not Currently Available for Direct Purchase