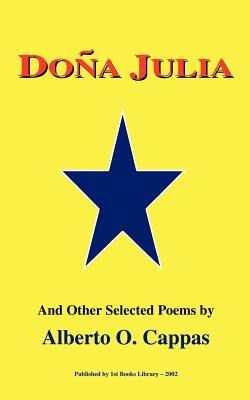 Dona Julia (Paperback)
And Other Poems by Alberto O. Cappas
Authorhouse, 9781403307378, 112pp.
Publication Date: July 1, 2002
Other Editions of This Title:
Paperback (7/14/2008)
* Individual store prices may vary.
Description
A collection of poetic short stories dealing with the realities of Puerto Ricans and their experience as new Americans. Cappas captures the journey and soul of new comers as they work to make the transition from a tropical environment to an urban and cold setting.
About the Author
Puerto Rican Poet, born in Puerto Rico, raised in New York City's upper Manhattan, 108th Street and Columbus Avenue. He attended Public Schools 165 (grammer school) 54 (middle school), Harlem Prep School, and graduated from SUNYAB. Creator of www.educationalpledge.com, makers of the Barack Obama Principles of Learning T-Shirt. Cappas is the author of "Never too late to make a U-turn: An Educational Pledge & 15 Questions to Self-Development," as well as the author of "Lessons for Myself," a book for young people interested in getting out the box.