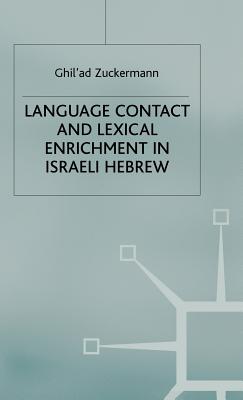 Language Contact and Lexical Enrichment in Israeli Hebrew (Palgrave Studies in Language History and Language Change) (Hardcover)
Palgrave MacMillan, 9781403917232, 294pp.
Publication Date: November 4, 2003
Other Editions of This Title:
Paperback (11/4/2003)
* Individual store prices may vary.
Description
Israeli Hebrew is a spoken language, 'reinvented' over the last century. It has responded to the new social and technological demands of globalization with a vigorously developing multisourced lexicon, enriched by foreign language contact. In this detailed and rigorous study, the author provides a principled classification of neologisms, their semantic fields and the roles of source languages, along with a sociolinguistic study of the attitudes of 'purists' and ordinary native speakers in the tension between linguistic creativity and the preservation of a distinct language identity.
About the Author
GHIL'AD ZUCKERMANN is Gulbenkian Research Fellow at Churchill College, Cambridge. He teaches and supervises at the Faculty of Oriental Studies and is affiliated with the Department of Linguistics. He has published in English, Israeli, Italian, Yiddish, Spanish and Russian, has taught in Singapore, the USA and Israel and conducted research in Japan and Australia.