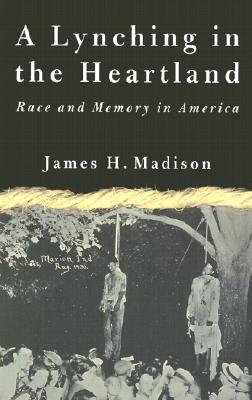 A Lynching in the Heartland
Race and Memory in America
Paperback

* Individual store prices may vary.
Description
On a hot summer night in 1930, three black teenagers accused of murdering a young white man and raping his girlfriend waited for justice in an Indiana jail. A mob dragged them from the jail and lynched two of them. No one in Marion, Indiana was ever punished for the murders. In this gripping account, James H. Madison refutes the popular perception that lynching was confined to the South, and clarifies 20th century America's painful encounters with race, justice, and memory.
Praise For A Lynching in the Heartland: Race and Memory in America…
"...documents in superb detail the tragic 1930 lynching of Abe Smith and Tom Shipp and its lasting impact..."--Crystal Feimster, Journal of Southern History

"...an impressively thorough and thoughtful account of the Marion lynching and its long municipal aftermath."-- David J. Garrow, Los Angeles Times

"As passionate as it is disturbing, Madison's book is a dire reminder of the horrors the American heartland held for the dispossessed."—" --Publishers Weekly

"A piercing, provocative account of a famous lynching that will forever alter the way you see race, memory, and justice in America."—" --Essence Magazine

Through creative and meticulous research, this books reveals the complex roots and lasting significance of what happened...
-American Historical Review
Palgrave MacMillan, 9781403961211, 222pp.
Publication Date: January 31, 2003
About the Author
James H. Madison is Miller Professor of History at Indiana University in Bloomington, where he teaches American history. This is his fourth book.