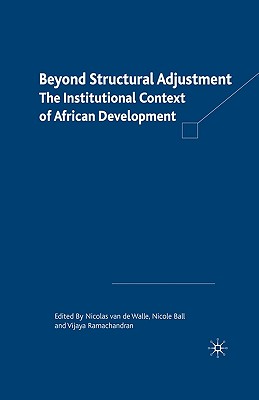 Beyond Structural Adjustment (Paperback)
The Institutional Context of African Development
Palgrave MacMillan, 9781403963178, 310pp.
Publication Date: December 12, 2003
Other Editions of This Title:
Hardcover (12/12/2003)
* Individual store prices may vary.
Description
As the World Bank famously put it back in 1989, 'underlying the litany of Africa's development problems is a crisis of governance.' This is a collection of authoritative essays bringing together prominent Africanists in political science and public administration to look at the role of governance in African development. The goal of the book is to move beyond the status quo debates about 'structural adjustment' and to look at all the public and civic institutions which are likely to play a critical role if Africa is to overcome its economic crisis.
About the Author
NICOLAS VAN DE WALLE is a Professor of Political Science at Michigan State University, USA and a Fellow at the Centre for Global Development. He has published widely on African political economy and issues relating to democratization. He is the author of African Economics and the Politics of Permanent Crisis, 1979-1999 (2001), as well as the co-author of three books Democratic Experiments in Africa: Regime Transitions in Comparative Perspectives (1997), Improving Aid to Africa (1996), Of Time and Power: Leadership Duration in the Modern World (1991). NICOLE BALL is a Professor at the University of Maryland, USA. VIJAYA RAMACHANDRAN is a professor at Georgetown University, USA.