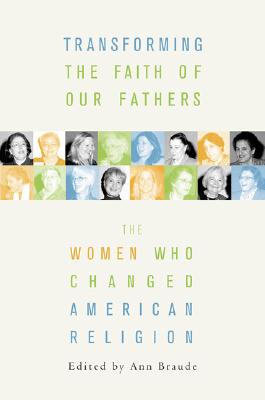 Transforming the Faiths of Our Fathers: Women Who Changed American Religion (Hardcover)
Women Who Changed American Religion
Palgrave Macmillan Trade, 9781403964601, 272pp.
Publication Date: June 1, 2004
* Individual store prices may vary.
or
Not Currently Available for Direct Purchase
Description
Pundits on both the right and the left often portray religion and feminism as inherently incompatible, as opposing forces in American culture. "Transforming the Faiths of Our Fathers" seeks to dispel that notion by asking sixteen well-known religious figures to tell the story of how they became involved in the women's movement. Their work-much of it ongoing-has helped transform the way religion is practiced in this country. They have worked for the ordination of women, for inclusive language and liturgy, for new interpretations of scripture, theology, and religious law, and for an end to religious teachings that contributed to destructive gender stereotypes. Authors include Protestant, Catholic, Jewish, Muslim, Mormon, Evangelical, and goddess feminists. The personal stories of the fascinating contributors include watershed events in American religion and society over the last forty years. Each one of the women in "Transforming the Faiths of Our Fathers" has made history and seen it made, and gives her own version of what she has witnessed and experienced. They demonstrate the roots of their feminist activism in religious commitments, and the significance of struggles within religious arenas for expanding women's possibilities in society and culture.
About the Author
Ann Braude is Director of the Women's Studies in Religion Program and Senior Lecturer on American Religious History at Harvard Divinity School. She is also the author of "Radical Spirits: Spiritualism and Women's Rights in Nineteenth-Century America," and "Women and American Religion," and co-editor of "Root of Bitterness: Documents of the Social History of American Women" (2nd edition).
Praise For Transforming the Faiths of Our Fathers: Women Who Changed American Religion…
"At last the religious voice of 20th century feminism can be heard. The stereotype of feminism as secular and homogeneous crumbles in the face of these passionate, diverse, and deeply moving stories. In gripping detail, we learn that struggles for women's rights have been part and parcel of virtually every religious tradition. Pain and grief thread through many of the stories, yet together they articulate a spiritual richness that is filled with hope, and many offer concrete stories of transformation on which future generations can build." -- Sara M. Evans, author of Tidal Wave: How Women Changed America at Century's End

Praise for Radical Spirits:
"Continually rewarding."--The New York Times Book Review
"An insightful book and a delightful read."--Journal of American History
Advertisement