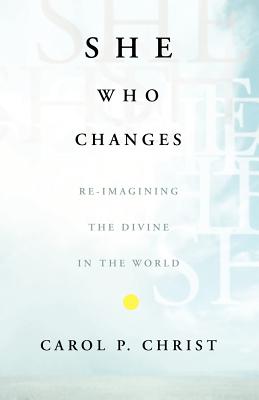 She Who Changes
Re-Imagining the Divine in the World
Paperback

* Individual store prices may vary.
Description
Can we re-imagine divine power as deeply related to the changing world? Can we re-imagine the creation of the world as an ongoing process of co-creation in which every individual from particles of atoms to human beings plays a part? Can we re-imagine Goddess/God as the most relational of all relational beings? Can we re-imagine the world as the body of Goddess/God? If we can, then we can understand the deeper meaning of female images of divine power, including Goddess, God-She, Sophia, and Shekhina. Many traditional understandings of divine power begin with thinly disguised rejections of the female body and connection to the natural world. Women theologians from Jewish, Christian, Goddess, and other traditions are re-imagining divine and human power as embodied, embedded in a changing world, and deeply related to all beings in the web of life. Drawing on the work of process philosopher Charles Hartshorne - whose insights deserve a wider hearing - Carol P. Christ offers intellectual foundations for deeply held feelings about the meanings of female images of divine power. Her gift is the ability to make complex ideas seem simple and radically new ideas seem familiar. This book is addressed to everyone who has ever wondered about the implications of re-imagining God as female.
Praise For She Who Changes: Re-Imagining the Divine in the World…
"Carol Christ, who is one of the brilliant foremothers of the Goddess movement, has an important new book out. She's one of the people who always most inspire me and stimulate my thinking, and who I find myself quoting and turning to for inspiration and clarity."--Starhawk
"She Who Changes is a gift to the world. The style is clear, passionate, and utterly compassionate, building a sturdy bridge between process theology and feminist thought that is valuable beyond calculation. After reading the book, I too will call myself a feminist process theologian."--Virginia Ramey Mollenkott, author of The Divine Feminine and Omnigender and Founding Member of the Evangelical & Ecumenical Women's Caucus
"Carol Christ sheds fresh light on the implications of Hartshorne's thought on issues that he did not himself discuss. As a man who considered himself a feminist, Hartshorne would have been delighted with Christ's interpretation and development of his thought. We Americans are urgently in need of a wider community of those who share a countercultural vision with extensive practical implications, a vision that can become a fundamental alternative to the extreme patriarchalism that now governs our national behavior. May Christ's book contribute to the emergence of this community." --John B. Cobb, Jr., Founding Member of the Center for Process Studies
Palgrave MacMillan, 9781403966698, 277pp.
Publication Date: January 30, 2004
About the Author
Carol P. Christ is a pioneer in the study of women in religion and in the Goddess and women's spirituality movements. She directs the Ariadne Institute for the Study of Myth and Ritual, offering Goddess Pilgrimages to Crete and a Sacred Journey in Greece.