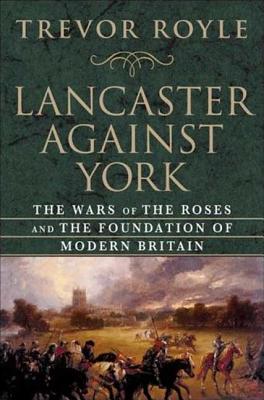 Lancaster Against York
The Wars of the Roses and the Foundation of Modern Britain
Hardcover

* Individual store prices may vary.
Description
In this sweeping history, Trevor Royle details one of the bloodiest episodes in British history. The prize was the crown of England, and the players were the rival houses of Lancaster and York. The dynastic quarrel threatened the collapse of the monarchy as a succession of weak rulers failed to deal with an overzealous aristocracy, plunging England into a series of violent encounters. The bloody battles and political intrigue between the rival heirs of King Edward III brought forth one of the most dynamic ruling families of England--the Tudors.
Praise For Lancaster Against York: The Wars of the Roses and the Foundation of Modern Britain…
"To understand the Wars of the Roses, one should read Shakespeare's History Plays for the epic drama, and Trevor Royle's Lancaster Against York for the epic truth. Royle has produced a tremendous achievement: a modern classic for all times." —Amanda Foreman, bestselling author of Georgiana, Duchess of Devonshire

"Royle does a good job of capturing the mood of the country, roiled by great economic uncertainty during the years of the Yorkist uprising. He leaves no stone unturned in this exhaustive retelling, and he has a sharp eye for detail... Royle's meticulous research makes this a welcome addition to the body of literature about this pivotal epoch in English history." —Kirkus Reviews

"Royle paints a broad, satisfying picture, illuminating Henry IV's reign." —Library Journal

"A well-written and thorough study." —The New York Times Book Review

"Thorough and informative." —Publishers Weekly

"Trevor Royle's achievement is to have skillfully encompassed and explained the complexities of his subject in a single volume…" —New York Review of Books on Crimea
St. Martin's Press, 9781403966728, 368pp.
Publication Date: July 22, 2008
About the Author
Trevor Royle is Associate Editor of the Sunday Herald and a regular commentator on international affairs for BBC radio. He is the author of Crimea: The Great Crimean War, 1854-1856.