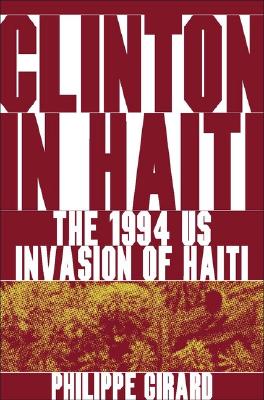 Clinton in Haiti: The 1994 US Invasion of Haiti (Hardcover)
The 1994 US Invasion of Haiti
Palgrave MacMillan, 9781403967169, 245pp.
Publication Date: December 10, 2004
Description
The book focuses on Aristide's political career, emphasizing his strategizing, compromising and dealing with the Clinton administration. In his presentation of the conflict, Girard carefully balances Aristide's and Clinton's needs, and the demands and moral positions the leaders make against each other - the result is that each leader and his constituency comes to life, and their maneuverings and decisions become engaging and meaningful. While Girard focuses on the conflict itself and the foreign policy dynamics at play between Haiti and the US, he also paints a compelling picture of contemporary Haiti and delineates with great clarity the tensions which led to recent violence and the deposition of Aristide.
About the Author
Philippe Girard is Assistant Professor in the Department of History at McNeese State University in Louisiana.
Praise For Clinton in Haiti: The 1994 US Invasion of Haiti…
"An engaging and wonderfully readable account of the circumstances leading up to the U.S. invasion of Haiti in 1994, and its restoration of Jean-Bertrand Aristide as Haitian president."--Elizabeth Abbott, Trinity College, University of Toronto

"This is an extraordinarily well written account that places Clinton's Haitian foreign policy in historical perspective. Linguistic wit and analytical sophistication prevail as Girard skillfully weaves readers through the complexities and tragedy of Haiti's history and the highly touted, but unsuccessful aftermath of the 1994 "invasion" by U.S. troops to restore Aristide and democracy to this Caribbean republic. Until Clinton administration classified documents become available this will remain the standard account and an object lesson for all future American cut-and-run attempts at peace-keeping and nation-building."--Joan Hoff,
Distinguished Research Professor of History, Montana State University, Bozeman

"Written by an outstanding young French scholar of recent American history, this examination of U.S. intervention in Haiti under Bill Clinton probes the motivations behind an unnecessary military action and explains the ways in which objective failure is translated into political success. The author's finely-calibrated sense of irony makes his work as entertaining as it is instructive." --Alonzo L. Hamby, Distinguished Professor of History, Ohio University, and author of For the Survival of Democracy: Franklin Roosevelt and the World Crisis of the 1930s.
Advertisement