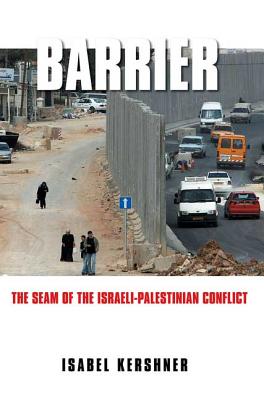 Barrier: The Seam of the Israeli-Palestinian Conflict (Hardcover)
The Seam of the Israeli-Palestinian Conflict
Palgrave MacMillan, 9781403968012, 232pp.
Publication Date: December 1, 2005
* Individual store prices may vary.
or
Not Currently Available for Direct Purchase
Description
In this moving account of the barriers between Israelis and Palestinians, leading Israeli journalist Isabel Kershner traces the route of the wall Israel is building and reports its profound effects on people living on both sides. Kershner provides rich and insightful portraits of Israeli settlers feeling abandoned on the wrong side of the fence; Palestinian farmers angry at being cut off from their lands and groves; Arab families split up in a town now divided by the barrier; and Israelis protesting that it is an obstacle to peace. Exploring the reasons for the barrier and its political and moral implications, Kershner focuses on the people committed to their causes. As the future relationship between Israelis and Palestinians is being determined, this important book addresses one of the most controversial solutions.
About the Author
Isabel Kershner is Senior Editor, Middle East, The Jerusalem Report and lives in Jerusalem. She has written for The New Republic and provided commentary on Middle East affairs on radio, including BBC.
Praise For Barrier: The Seam of the Israeli-Palestinian Conflict…
"Isabel Kershner turns a complicated issue into a gripping story without sacrificing the nuances or the complexities. Barrier is an elegantly written and eloquent page turner."
-- Bob Simon, 60 Minutes Correspondent

"Isabel Kershner has provided a distinctly human perspective on the Israeli security barrier. She weaves a compelling story, wonderfully written and told largely through the eyes of individual Israelis and Palestinians. But this is more than only the story of the barrier and how it is seen; it is also an explanation of the conflict and the pain it continues to impose on both sides. The Israeli quest for security and acceptance and the Palestinian yearning for dignity and freedom emerge unmistakably in this very moving book."
-- Dennis Ross, chief Middle East peace negotiator for Presidents George H. W. Bush and Bill Clinton, author of The Missing Peace

"Nothing expresses the folly of the two peoples as this thing does. When viewed close-up, the barrier turns into a tall hideous curtain, still ugly even if made from cement rather than iron, swallowing cities and hopes. As with most walls in history, fear may have created the impulse to build it; but greed and other human faults determine its path. Isabel Kershner's book is not about the concrete and wire fences; it is about those who created them, the bombers as well as the mighty occupiers; but most importantly, it is about those victimized by its unwelcome and destructive presence. We hear their voices and feel their pain. More than that, Kershner's storytelling digs deeper into the strategic implications, making her book useful to experts as well as all concerned with the Middle East"
-- Khalil Shikaki, Director of the Palestinian Center for Policy and Survey Research in Ramallah

"Barrier is superb. Extraordinarily balanced and perceptive, it is a sympathetic but unflinchingly honest portrayal of two peoples irreversibly entangled in their own historic tragedies. Veteran journalist Isabel Kershner portrays their conflict from the bottom up--through the eyes and voices of Palestinians and Israelis on both sides of the barrier. If you can only read one book about this conflict, this is it: It is brilliant and unique."
-- Samuel Lewis, U.S. Ambassador to Israel under Presidents Carter and Reagan, and former President, United States Institute of Peace
"Kershner carefully and humanely shows how the wall built by Ariel Sharon's government has not only exposed divisions but also created them--physically, politically and psychologically."--Washington Post Book World
Advertisement