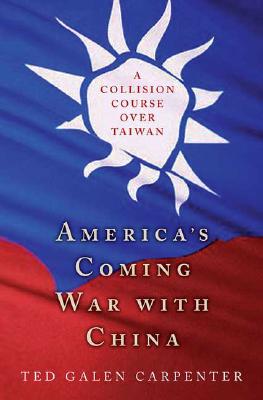 America's Coming War with China
A Collision Course Over Taiwan
Hardcover

* Individual store prices may vary.
Description
One issue could lead to a disastrous war between the United States and China: Taiwan. A growing number of Taiwanese want independence for their island and regard mainland China as an alien nation. Mainland Chinese consider Taiwan a province that was stolen from China more than a century ago, and their patience about getting it back is wearing thin. Washington officially endorses a "one China" policy but also sells arms to Taiwan and maintains an implicit pledge to defend it from attack. That vague, muddled policy invites miscalculation by Taiwan or China or both. The three parties are on a collision course, and unless something dramatic changes, an armed conflict is virtually inevitable within a decade. Although there is still time to avert a calamity, time is running out. In this book, Carpenter tells the reader what the U.S. must do quickly to avoid being dragged into war.
Praise For America's Coming War with China: A Collision Course Over Taiwan…
"America's Coming War with China is a timely and important book. Although 9/11 and the subsequent Iraq war pushed it off the foreign policy center stage, recent events have put the spotlight back on the complex Sino-American relationship. Ted Galen Carpenter forcefully reminds us that, because the unresolved Taiwan issue could trigger a military showdown between the United States and China, relations with Beijing constitute perhaps the most important long-term strategic challenge for Washington. America's Coming War with China is must-read for anyone interested in contemporary American foreign policy."
--Christopher Layne, Associate Professor, Bush School of Government and Public Service, Texas A & M University, and author of The Peace of Illusions: American Grand Strategy from 1940 to the Present (Cornell University Press)

"In America's Coming War with China, Ted Galen Carpenter explains with unique insight how the misjudgments and false assumptions of Washington's policy of strategic ambiguity on China and Taiwan are putting the United States on a collision course with China. This book is a must read."
--Clyde Prestowitz, author of Three Billion New Capitalists

"America's Coming War with China is a thoughtful, even-toned, deeply disturbing book. Ted Galen Carpenter has long been one of the wisest, most far-seeing foreign policy voices in Washington. His quiet, careful documentation of an on-rushing, potentially catastrophic confrontation between the United States and China over Taiwan, which can still be avoided, but may not be, is far more troubling than the hysterical claims from other sources that brand China as an inevitable, mortal enemy of the United States. This is clearly one of the most important books on U.S. foreign policy in years. It is essential reading for everyone who cares about the peace of the world."
--Martin Sieff, National Security Correspondent, United Press International


"Ted Galen Carpenter's America's Coming War with China provides the ground-shaking wake-up call to U.S. officials who favor inertia over sensible policy in managing the U.S-China-Taiwan relationship. Carpenter's brilliant book jumps ahead to 2013 and makes the case that we are facing a train wreck with China over the Taiwan issue if we do nothing to resolve dangerous and exploitable ambiguities in U.S. policy. American views of China tend to swing from paranoia to over-indulgent trust. Carpenter calls for consistent strategy and a realistic assessment of this crucial East Asian relationship in this must-read page-turner."
--Steven Clemons, Executive Vice President, New America Foundation
Palgrave MacMillan, 9781403968418, 216pp.
Publication Date: January 10, 2006
About the Author
Ted Galen Carpenter is vice president for defense and foreign policy studies at the Cato Institute. He is the author of six books and the editor of ten books on international affairs.
or
Not Currently Available for Direct Purchase