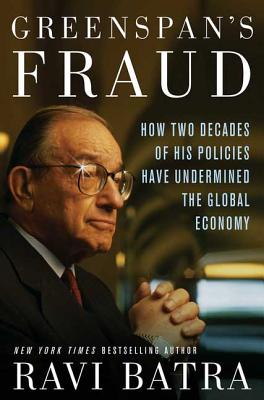 Greenspan's Fraud (Hardcover)
How Two Decades of His Policies Have Undermined the Global Economy
St. Martin's Press, 9781403968593, 288pp.
Publication Date: May 9, 2005
* Individual store prices may vary.
Description
For two decades Federal Reserve Chairman Alan Greenspan has held reign over economic policy, outlasting three presidents. His long tenure has had a profound effect on global economics and on individuals. In this hard-hitting exposé, international bestselling author Ravi Batra takes sharp aim at Greenspan's policies since he came into power. Greenomics, Batra argues, has extracted trillions of dollars from the American middle class and sharply benefited the rich, while protecting big business. Batra proves that Greenomics has also been responsible for periods of irrational exuberance, and exposes the wild inconsistencies in his social security plans. Greenspan's Fraud explores Greenspan's influences and motivations and the discrepancies between his words and actions, while revealing how his policies have national and global impact.
About the Author
Ravi Batra is the author of Greenspan's Fraud as well as the international bestsellers, The Downfall of Capitalism and Communism, The Great Depression of 1990, and The Myth of Free Trade. He is professor of economics at Southern Methodist University in Dallas. Batra has been profiled in such publications as The New York Times, The Washington Post, Time, and Newsweek, among others, and has appeared on CBS, NBC, CNN, ABC, CNBC, and other networks.
Praise For Greenspan's Fraud: How Two Decades of His Policies Have Undermined the Global Economy…
"The most thoroughgoing assault on the Maestro's legacy so far." —Cecil Johnson, Fort Worth Star-Telegram (syndicated)
"Here, finally, is the dark truth about Alan Greenspan. In this chilling exposé of one of the most powerful men of our time, Ravi Batra reveals Greenspan for who he secretly is: An ideologue who has waged war on the American Dream and imperiled the world economy. Greenspan's Fraud is a terrifying book." —David Callahan, author of The Cheating Culture: Why More Americans Are Doing Wrong to Get Ahead
"As always, his economic arguments are expressed elegantly." —Publishers Weekly
"A scathing indictment of Greenspan's policies and person actions.... Batra is earnest, passionate, and furious--and he provides a lot of numbers to back up his claims. Whether or not you agree with him, the book is an unsettling read." —BizEd
"[H]is economic insights recommend this book to most public and academic libraries." —Lawrence R. Maxted, Library Journal
"Ravi Batra is one of the world's most controversial economists. Beneath the surface of his often contentious conclusions lies a deeper source of the controversy. He does not accept one of the most fundamental fallacies of modern macroeconomic theory--the assumption that macroeconomic policy has no distribution effects.... Professor Batra turns this oversimplifying assumption upside down.... [W]e cannot and should not ignore him..." —William A. Barnett, Oswald Distinguished Professor of Macroeconomics, University of Kansas and Editor, Macroeconomic Dynamics
"Dr. Batra writes about his subject as clearly as if he were telling bedtime stories." —Christopher Lehmann-Haupt, New York Times
"Batra has set the standard for economic analysis . . . Think about it. Before Batra, who ever heard of phrases like 'jobless recovery,' 'contained depression,' and 'deflationary boom.'" —John Liscio, Barron's
"When it comes to the bottom line so beloved of economists, one can learn a lot about events by thinking about them in cyclical regularities, of which Batra gives a novel and brilliant exposition." —Lester C. Thurow, Professor, MIT
"Batra [is] a scholar who has earned a considerable reputation as an expert on trade." —Albert Crenshaw, Washington Post
"Ravi Batra has made an outstanding reputation in the United States as an international economic theorist in the best Western tradition." —Leonard Silk, New York Times