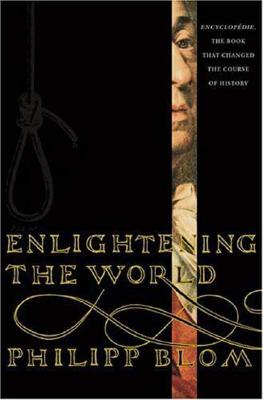 Enlightening the World
Encyclopedie, the Book That Changed the Course of History
Hardcover

* Individual store prices may vary.
Description
In 1777 several of the world's greatest men gathered together to create a book that would champion rationalism, free thinking, and secularism--the "Encyclopedie." Such leading minds as Diderot, Rousseau, and Voltaire conceived of a work that would tear down the social order dominated by the Crown and Church, a brave act at a time when heresy could still be punished by death. During the years it took to produce all twenty-seven volumes, the writers faced exile, jail, and censorship. But when they were done, they had created a book that would provide the foundation for the Enlightenment and change the world forever. Novelist and historian Philipp Blom presents the story behind the sixteen-year struggle to create the "Encyclopedie," the men who wrote it, the powerful forces that tried to suppress it, and the tremendous impact it had on the world.
Praise For Enlightening the World: Encyclopedie, the Book That Changed the Course of History…
"Superb... Blom artfully brings to life the 27-volume work that symbolized its era, the 'Encyclopedie."--The Philadelphia Inquirer

"With exceptional interpretive skill, Philipp Blom provides a fascinating study--replete with wonderful stories, racy gossip, and grand personalities--of the arduous struggle to produce the work that became a testament to humanity: The Encyclopedia."-- Stephen Eric Bronner, Rutgers University

"...not only a tribute to a very worthy project of enlightenment and liberation; it is also a thoroughly good read."--The Literary Review
"Blom, a journalist, novelist, and translator, provides a rich, informative, and lively history of the Encyclopédie and those who worked on it, going so far as to recover some of its unsung heroes, e.g., Louis de Jaucourt who provided some 20,000 entries. Highly recommended for public and academic libraries."--Library Journal
"Meticulously researched . . . . thorough and engaging . . . this book is a welcome read for European historians and for those interested in learning about one of the foremost works of the Enlightenment. "-- Publishers Weekly
"Mr. Blom does not attempt to sustain his title's sweeping claim, and perhaps this is just as well; for his own strengths lies less in measuring the effect and reception of lies than in telling stories about the lives and passions of their makers. This he doe with considerable skill, painting colorful sketches of the leading 'Encyclopedists" of the 18th Century."--Darrin McMahon, Wall Street Journal June 2005
"The
Encyclopedie's
story is both epic and epochal, and Blom tells it intelligentlu, gracefully, and stylishly."--Ray Olsen, Booklist "Philipp Blom is a talented stylist who exploits a variety of narrative forms while tackling a wide range of topics." --
H-France Review
Palgrave MacMillan, 9781403968951, 372pp.
Publication Date: May 1, 2005
About the Author
Philipp Blom is a journalist, translator, novelist, and historian. He is author of "To Have and To Hold" and writes regularly for the "Times Literary Supplement" and "The Daily Telegraph." He lives in Paris.
or
Not Currently Available for Direct Purchase