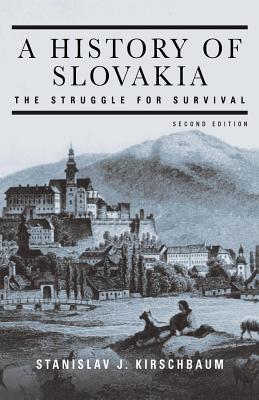 A History of Slovakia (Paperback)
The Struggle for Survival: Second Edition
St. Martin's Griffin, 9781403969293, 416pp.
Publication Date: June 4, 2005
* Individual store prices may vary.
Description
This classic book offers the most comprehensive and up-to-date history of Slovakia, from its establishment on the Danubian Plain to the present. While paying tribute to Slovakia's resilience and struggle for survival, it describes contributions to European civilization in the Middle Ages; the development of Slovak consciousness in response to Magyarization; its struggle for autonomy in Czechoslovakia after the Treaty of Versailles; its resistance, as the first Slovak Republic, to a Nazi-controlled Europe; its reaction to Communism; and the path that led to the creation of the second Slovak Republic. Now fully updated to the present day, the book examines the vagaries of Slovak post-Communist politics that led to Slovakia's membership in NATO and the European Union.
About the Author
Stanislav J. Kirschbaum is Professor of International Studies at York University, Glendon College, author of A History of Slovakia and Historical Dictionary of Slovakia, and a Fellow of the Royal Society of Canada. He lives in Toronto.
Praise For A History of Slovakia: The Struggle for Survival: Second Edition…
"Kirschbaum has given the Western world the first popular history of Slovakia...This is a rich historical work, diligently researched and compellingly written. An important contribution to the literature on Eastern and Central Europe...." —Library Journal
"A History of Slovakia is a masterpiece of historical narrative with a clear-stated and well-structured argument. It is free from ideological or political bias, and able to fill a painful gap in the modern English-speaking historiography." —Emilia Hrabovec, University of Vienna
"A History of Slovakia is the most accessible English source of comprehensive information on Slovakia's past. It is stimulating and well suited for readers interested in this fascinating country and for university courses." —Martin Votruba, Director, Slovak Studies Program, University of Pittsburgh