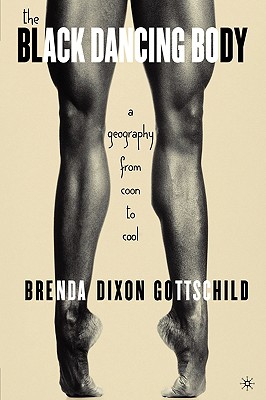 The Black Dancing Body
A Geography from Coon to Cool
Paperback

* Individual store prices may vary.
Description
What is the essence of "black" dance in America, and what is the black dancing body? To answer these question, Brenda Dixon Gottschild charts an unorthodox history by mapping the geography of the black dancing body and showing its central place in our culture. From feet to buttocks, hair, skin, face and beyond to soul and spirit, the author explores the endeavors, ordeals and triumphs of this body with some of the major dancers and choreographers of our time--Fernando Bujones, Brenda Bufalino, Trisha Brown, Garth Fagan, Rennie Harris, Bill T. Jones, Ralph Lemon, Susanne Linke, Meredith Monk and a cadre of their esteemed colleagues. Since race and color are usually taboo subjects in the dance world, what the author finds out is sure to cause controversy and turn heads. Written by one of the foremost American dance critics of our day, The Black Dancing Body is a key to the ineffable rhythms and movement of dance in America.
Praise For The Black Dancing Body: A Geography from Coon to Cool…
"Anyone interested in dance and in African-American culture will find much to ponder here."--Publishers Weekly Annex

"Dixon Gottschild's happiest readers will share her adventurousness, her inclination to listen deeply and learn, and her honesty." --Eva Yaa Asantewaa, Dance Magazine

"For anyone who's ever sat in an audience wondering why the folks onstage look so very unlike the folks outside, this invigorating, argumentative, and highly personable book is a must." --Laura Shapiro, New York Magazine

"With typical generosity, Brenda Dixon Gottschild convenes a discussion of some of the most crucial issues defining black-white relations in contemporary American society. Skillfully weaving her own voice among those of diverse artists, she raises questions about racial stereotypes, expectations, and prejudices as they are experienced by performers and viewers. Because it focuses on the dancing body, situating its cultivation of physicality as part of more general cultural elaborations of corporeality, The Black Dancing Body addresses the experience of race at a profound and vital level. Candidly pursuing the racialized experiences of feet, butts, hair, and skin, Dixon Gottschild gives readers an abundance of perspectives, both historical and cultural, on the physical. She invites readers into a dialogue, marked by honesty, courage, and soul, that is capable of moving our bodies and our spirits."--Susan Foster, author of Reading Dancing: Bodies and Subjects in Contemporary American Dance

"The Black Dancing Body is a fresh and surprising collage of a book. It walks around its subject, looking at it from new angles, carefully knocking down cliches and stereotypes, allowing dancers' voices to be heard. The quietest, truest voice is the author's own, as she meditates on her own body and the associations it calls up from her own dancing past and her life as an African American woman. This book must be read, to understand once again why our culture is such a painful and exhilarating mixture of black and white elements, and why, in the midst of celebrating the mixture, we must never forget the African-American contribution."--Elizabeth Kendall, author of American Daughter: Discovering My Mother
Palgrave MacMillan, 9781403971210, 352pp.
Publication Date: September 16, 2005
About the Author
Brenda Dixon Gottschild is professor emerita of Dance Studies at Temple University and a former senior consultant/writer for Dance Magazine. She is the author of Digging the Africanist Presence in American Performance, Waltzing in the Dark, and The Black Dancing Body. Dixon Gottschild is the recipient of the 2013 Scholar Award from the International Association of Blacks in Dance.