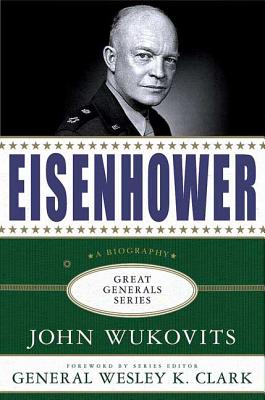 Eisenhower (Hardcover)
Palgrave MacMillan, 9781403971371, 204pp.
Publication Date: October 1, 2006
* Individual store prices may vary.
or
Not Currently Available for Direct Purchase
Description
In the third installment of the Great Generals series, WWII expert John Wukovits explores Dwight D. Eisenhower's contributions to American warfare. American general and 34th president of the United States, Eisenhower led the assault on the French coast at Normandy and held together the Allied units through the European campaign that followed. The book reveals Eisenhower's advocacy in the pre-war years of the tank, his friendships with George Patton and Fox Conner, his service in the Philippines with Douglas MacArthur, and his culminating role as supreme commander of Allied forces in Europe. Wukovits skillfully demonstrates how Eisenhower's evolution as a commander, his military doctrine, and his diplomatic skills are of extreme importance in understanding modern warfare.
About the Author
John Wukovits is the author of Pacific Alamo and Devotion to Duty. His writings have appeared in numerous publications including The Washington Post and the Chicago Tribune. He lives in Trenton, Michigan.
Praise For Eisenhower…
"In his highly readable and concise style, John Wukovits has once again succeeded in packing a wealth of information into a single volume on the life of one of the greatest soldier-statesmen in history. He conveys the strength of character and innate leadership of Dwight Eisenhower in a manner which will captivate the reader."--Michael E. Haskew, Editor, WWII History Magazine "With his depth of research, insightful approach, and clarity of style, the author and military historian John Wukovits has managed to put a human face on one of the 20th century's greatest figures and turn an historical icon into a flesh-and-blood human being. One comes away from this book feeling as if Ike is a friend, not just a legend."--Flint Whitlock, author of The Fighting First: The Untold Story of the Big Red One on D-Day "Wukovits' book is excellently researched but his greatest merit as an historian is a rare ability to make the past a real living thing. This book is a special pleasure to read, for it is peopled by real figures the reader can understand and care about. Eisenhower is not cast as the Olympian figure he is too often made out to be. A superior history of an intensely human man."--Robert Barr Smith, Colonel, USA (ret) "Wukovits gives us a portrait of a general who devised and sustained a broad-front strategy that led to Germany's unconditional surrender, and a man who never took his eyes off the prize."--Jonathan E. Lazarus, The Star-Ledger.
 "John Wukovits now offers a concise portrayal of the commander who served as the chief architect of D-Day and the campaign in northwest Europe."--Col. Cole C. Kingseed, USA Ret., ARMY
Advertisement