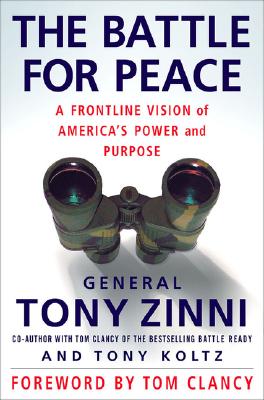 The Battle for Peace: A Frontline Vision of America's Power and Purpose (Hardcover)
A Frontline Vision of America's Power and Purpose
Palgrave Macmillan Trade, 9781403971746, 256pp.
Publication Date: March 30, 2006
* Individual store prices may vary.
or
Not Currently Available for Direct Purchase
Description
Now a "New York Times" Bestseller
Tony Zinni has served on the frontlines of war and peace--as a Marine in Vietnam, commander of troops in the Middle East, and diplomatic envoy. His wealth of experience provides fascinating insight into how the world works and a sweeping vision of America's role in it. Zinni argues that the roots of the world's growing turmoil are not being addressed and that America's aggressive confidence is making it worse--with potentially devastating implications for the safety of Americans. From the foxhole to the White House, Zinni's first-hand experience informs his view of how America can promote a more stable and peaceful world through realism and pragmatic cooperation with other peoples and states.
About the Author
General Tony Zinni (Ret.) was Commander in Chief of CENTCOM and special envoy to the Middle East. He has appeared on "60 Minutes," "Nightline "and "Charlie Rose," among others. Tony Koltz co-authored Tom Clancy's "Into the Storm "and "Battle Ready," with General Zinni.
Praise For The Battle for Peace: A Frontline Vision of America's Power and Purpose…
New York Times Bestseller! "...A warning that deserves serious consideration." -- New York Times "Zinni is an interesting man, and he has a lot of interesting things to say about the dangers of pursuing our current course in foreign policy. He is a distinctly non-ideological man in an era when ideology is running rampant both home and abroad." -- Michael Abramowitz, The Washington Post "The intellectual complement to Zinni and Clancy's bestselling Battle Ready...This volume provides the former Cnetral Command chief's analysis of America's current global position...Zinni's pragmatic, low key approach merits serious condiseration."--Publishers Weekly

"Refreshingly contrarian, and perfectly commonsensical"--Kirkus Reviews
 "[Zinni and Koltz] provide a clear analysis and plan for the future of America that challenges all--policy wonks, soldiers, and citizens alike--to rethink how we use our power to influence the global community."--Library Journal

"Provocative, insightful, and straight-from-the-shoulder blunt"-- William S. Cohen, former U.S. Secretary of Defense, 1997-2001.

"Tony Zinni's writing is straightforward and to the point...a primer to guide us in the 21st century. Well done." --Richard L. Armitage, Former U.S. Deputy Secretary of State, 2001-2005

"sensible and deserve[s] wide support."--James Fallows, national correspondent of The Atlantic Monthly, author of National Defense.
Advertisement