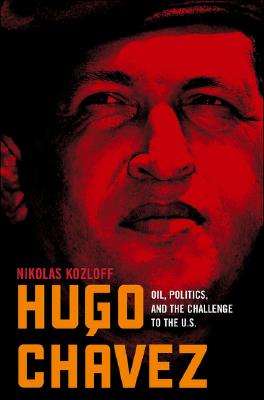 Hugo Chavez (Hardcover)
Oil, Politics, and the Challenge to the United States
Palgrave MacMillan, 9781403973153, 262pp.
Publication Date: July 25, 2006
* Individual store prices may vary.
Description
This is the riveting and frightening story of ambitious, tempestuous and avowed anti-American Hugo Chavez, who is making waves through South America and being widely compared to Fidel Castro. Ex-paratrooper, outspoken socialist, and brash personality, Chavez is known for his stance against big business, fearless threats to the Bush administration, social reforms that have violently polarized his country, and claims that he will soon unite South America. As gas prices rise to unprecedented highs, Venezuela's importance surges as the fifth largest oil exporter in the world. Nikolas Kozloff's access to top advisors, members of the opposition, and leaders of Chavez's own political movement allow him to present a comprehensive portrait of Chavez as he runs for re-election and moves into the global spotlight.
About the Author
Nikolas Kozloff is an expert on South America and a former fellow at the Council on Hemispheric Affairs in Washington, D.C. He contributes articles to Counterpunch, buzzflash.com, venezuelanalysis.com, Z Net, and blogs on senorchichero.blogspot.com. He has appeared on PBS "World Focus," C-SPAN "Washington Journal" and "The Daily Show"" and is the author of ""Revolution! "He lives in Brooklyn, NY.
Praise For Hugo Chavez: Oil, Politics, and the Challenge to the United States…
"Enables readers to understand the Chávez movement on its own terms while also making clear Chávez's larger significance in the current politics and possible future direction of Latin America."--Doug Yarrington, Colorado State University"Nikolas Kozloff's fact-filled Hugo Chávez is a thought-provoking explanation of why people around the planet hail Venezuela's fiery leader as a hero.  This is essential reading for all who want to understand modern global politics or are committed to creating a better world for our children."--John Perkins, author of the New York Times bestseller Confessions of an Economic Hit Man (2005)"Is Hugo Chávez the Messiah?  Is George W. Bush afraid of him?  Is the taste of oil too sweet to give up?  Where is Latin America going with the new generation of revoltosos?  Nikolas Kozloff's sharp, provocative report offers the reader a clue to understanding the current redrawing of hemispheric power."--Ilan Stavans, author of The Hispanic Condition
or
Not Currently Available for Direct Purchase