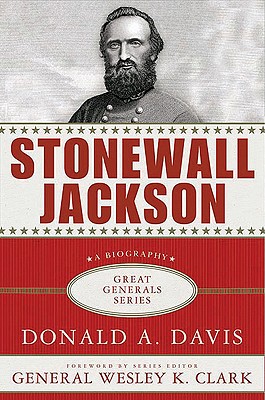 Stonewall Jackson: A Biography (Hardcover)
A Biography
Palgrave Macmillan Trade, 9781403974778, 224pp.
Publication Date: September 4, 2007
* Individual store prices may vary.
or
Not Currently Available for Direct Purchase
Description
Deemed "irreplaceable" by Robert E. Lee, Stonewall Jackson assumed his nickname during the Battle of Bull Run in the Civil War. It is said that The Army of Northern Virginia never fully recovered from the loss of Stonewall's leadership when he was accidentally shot by one of his own men and died in 1863. Davis highlights Stonewall Jackson as a general who emphasized the importance of reliable information and early preparedness (he so believed in information that he had a personal mapmaker with him at all times) and details Jackson's many lessons in strategy and leadership.
About the Author
Donald A. Davis is co-author of "New York Times" bestseller "Shooter: The Autobiography of the Top-Ranked Marine Sniper" and author of "Lightning Strike: The Secret Mission to Kill Admiral Yamamoto and Avenge Pearl Harbor." He lives outside Boulder, Colorado.
Praise For Stonewall Jackson: A Biography…
"Davis' exceptional biography of Stonewall Jackson breathes new life into the Civil War legend and his Foot Cavalry. Davis deftly reveals the relevance today of the man who created a textbook on tactics by accomplishing so much, so often, with so little."--Jack Coughlin, Gunnery Sergeant, USMC (Ret.), and New York Times bestselling author of SHOOTER: The Autobiography of the Top-Ranked Marine Sniper "Davis, whose diverse background includes experience in almost every phase of publishing as well as a profound knowledge of military history, brings to Stonewall a deft touch that makes this compelling subject new, exciting and exceptionally readable. The result is an enthralling portrayal of the man many believe may have been the top military strategist of his time." --Ken Englade, author of The Tony Hillerman's Frontier series. "A brilliant masterpiece. Former CIA Director Allen Dulles once said, 'truth has a hard time once legends are established to appease our thirst for heroes.' Don Davis has captured the truth about General Thomas 'Stonewall' Jackson. In this book, readers will find precious lessons in strategy, tactics, character and honor -- traits and skill sets that never disappear."--Fred Burton, Vice-President, STRATFOR and former U.S. Counterterrorism agent "Confederate General Thomas Jackson inspired the best nickname of the Civil War. Condensing everything about Stonewall into this brief biography, Davis ensures inclusion of sections of Jackson's career in command that are not regarded, as his campaign of 1862 in the Shenandoah Valley universally is, as militarily brilliant. . . . This rapid read ably introduces the famous warrior."--Booklist "A brisk entry in Palgrave's Great Generals series spotlights the battle prowess of Dixie's warrior-saint...a handy introduction to the military genius."--Kirkus "[Davis] offers insightful analyses of Jackson's tendencies and behavior."--Matthew J. Wayman, Library Journal "Davis...reveals how it was Jackson's tactical superiority that made him such an exceptional military leader." - Tuscon Citizen
Advertisement