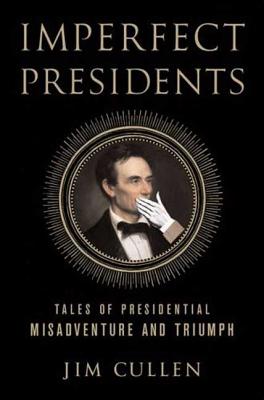 Imperfect Presidents: Tales of Misadventure and Triumph (Hardcover)
Tales of Misadventure and Triumph
Palgrave MacMillan, 9781403975133, 234pp.
Publication Date: March 20, 2007
* Individual store prices may vary.
or
Not Currently Available for Direct Purchase
Description
When people make bad decisions, odd remarks, and just plain silly mistakes, the results are sure to haunt them. But when these things happen to the president of the United States, they can change the course of history. In this clever portrait of the American presidency, Jim Cullen takes ten presidents down from their pedestals by examining key missteps in their careers--and how they transcended them. Examples include Abraham Lincoln smearing a preacher and rediscovering his religious vision in emancipating slaves; Lyndon Johnson's electoral fraud in his 1948 Senate race and his role in the signing of the Voting Rights Act; and Ronald Reagan's subversion of the Constitution in the Iran-Contra affair and affirmation of world peace in helping bring about the end of the Cold War. Targeting Republicans and Democrats alike, Cullen's insights are surprisingly timely and hugely entertaining.
About the Author
Jim Cullen is the author of "Born in the USA" (Literary Guild Alternate), "The American Dream," and other books. He has taught at Harvard, Brown, and Sarah Lawrence College, and currently teaches at the Ethical Culture Fieldston School in New York, where he also serves on the Board of Trustees. He lives in Hastings-on-Hudson, New York.
Praise For Imperfect Presidents: Tales of Misadventure and Triumph…
"Jim Cullen has dared to write an old-fashioned book about the virtues of American presidents. But instead of wooden tales about cherry trees and log cabins, he has given us complex portraits of flawed men who performed acts of moral courage at critical moments in the nation's history. Imperfect Presidents invites us to admire these leaders--and even to find lessons in their stories--without indulging in hero-worship."--Steven Biel, Executive Director, Humanities Center, Harvard University, and author of American Gothic: A Life of America's Most Famous Painting "Cullen, one of America's most versatile historians, displays his usual acumen with a topic that will never go out of fashion. The ways that our presidents invariably disappoint us, and the more interesting  ways that they occasionally rebound from that disappointment, combine to make this a deeply satisfying read about the world's most powerful office. Great history for specialists and non-specialists alike." --Ted Widmer, former Clinton speech writer and Director and Librarian, John Carter Brown Library, Brown University
 "Wise and often moving." --Fredric Smoler, AmericanHeritage.com

"In Imperfect Presidents, Jim Cullen offers a highly readable look at 11 commanders-in-chief and how they overcame major mistakes... With keen analysis and telling anecdotes culled from presidential biographies, Cullen proves that even the most revered presidents weren't saints... Cullen doesn't shy away from balanced appraisals of recent leaders and actions still deemed controversial."--Gary Budzak, The Columbus Dispatch
Advertisement