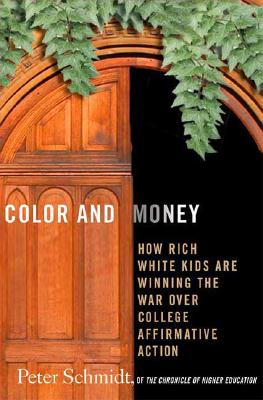 Color and Money: How Rich White Kids Are Winning the War Over College Affirmative Action (Hardcover)
How Rich White Kids Are Winning the War Over College Affirmative Action
Palgrave MacMillan, 9781403976017, 263pp.
Publication Date: August 7, 2007
* Individual store prices may vary.
or
Not Currently Available for Direct Purchase
Description
What is the real story behind the fight over affirmative action in college admissions? Veteran journalist Peter Schmidt reveals truths that will outrage readers and forever transform the debate.
His book exposes the hidden agendas of all sides, revealing how:
* The conservative opposition to affirmative action preaches equality in college admissions, yet guts programs that help poor kids get in the running.
* The higher education establishment feeds lies to the federal courts and the public about the benefits of affirmative action, and attempts to squelch any talk about how selective colleges' favoritism toward the privileged undermines professed commitments to diversity.
* Affirmative action has evolved from a means of bringing about social justice into a tool colleges cynically use to sell themselves and attract corporate support.
* Lower and middle class students of all races are being lost in the affirmative action struggle.
The underlying premise is that affirmative action is a band aid used to hide a very deep wound that neither side of the debate has much interest in treating any time soon. The real winners in the war over college affirmative action are rich white kids, whose spot on the inside track is secure no matter which side comes out on top. The real losers are African- American, Hispanic, and Asian-American kids, who continue to have the deck stacked against them, and those worthy white kids who lack cash and connections and find their futures sacrificed by colleges for "diversity" and the almighty dollar.
Unafraid to shine a harsh light on schools such as Harvard, the University of Michigan, Princeton, and the University of California, this is a startling and brave book that will inspire a national dialogue on class, race, and education.
About the Author
PETER SCHMIDT is a Senior Writer at The Chronicle of Higher Education, where he covers affirmative action, state and federal higher-education policy, education research, and historically black colleges and universities. He previously covered school desegregation, urban education, and immigrant education for Education Week, and he has written for the Associated Press, the Detroit Free Press, the Weekly Standard, and Teacher Magazine. His work has won awards from the Society of Professional Journalists, the Education Writers Association, the Virginia Press Association, and the National Council on Crime and Delinquency. His coverage of affirmative action won a special citation for beat reporting from the Education Writers Association in 2006.
Praise For Color and Money: How Rich White Kids Are Winning the War Over College Affirmative Action…
"Books on the highly-charged issue of affirmative action are usually one-sided and inflammatory. Peter Schmidt's Color and Money is a wonderful exception. It provides an honest and fair examination that is also passionate and illuminating. Schmidt carefully weighs the arguments for and against affirmative action and then lays bare higher education's naughty secret--that for all its self-congratulatory embrace of diversity, poor and working-class students of all colors remain largely shut out." --Richard D. Kahlenberg, Senior Fellow, The Century Foundation, and author of The Remedy: Class, Race, and Affirmative Action
"For those concerned about why the march toward social justice in America has faltered badly for nearly forty years now at the hands of the nation's entrenched political and economic systems, Peter Schmidt's
Color and Money
is a highly instructive--and greatly disturbing--guidepost." --Richard Kluger, author of
Simple Justice: The History of Brown v. Board of Education and Black America's Struggle for Equality
Peter Schmidt's
Color and Money
does just what its subtitle says: It describes "how rich white kids are winning the war over college affirmative action." It offers refreshing honesty, a disregard for political correctness, and the effective writing of an experienced and skilled reporter.--Gary M. Lavergne, Director of Admissions Research and Policy analysis at the University of Texas at Austin. "Fair, balanced and judicious." --Martin Morse Wooster, The Washington Times "Drawing upon his extensive experiences as a journalist and editor for The Chronicle of Higher Education, Schmidt is an indispensable guide through the political jargon, statistical obfuscation and specious argumentation employed by both sides of the debate, not to mention the many camps that fall somewhere uncomfortably between." --Zach Weir, The Charleston Post and Courier "Forget about religion, politics, sex, even race. The issue Americans are least likely to be able to discuss honestly is class.
Color and Money
is a forthright examination of the inequalities we must start talking about if we are ever going to achieve a semblance of equality. Anyone interested in the inequities of the selective college admissions process will find
Color and Money
clear-eyed, hard-hitting, enlightening, and informative." --Rachel Toor, author of
Admissions Confidential: An Insider's Account of the Elite College Selection Process
"Written with a passion for the issues, Peter Schmidt offers a compelling and thoughtful summary of the history of government policy, court decisions, and the politics regarding affirmative action. This book is a must read for anyone concerned about access to higher education--especially the nation's elite universities--as well as those concerned about questions of social policy and justice." --Terry MacTaggart, Former Chancellor, University of Maine System
"An excellent primer on a perennial campus hot topic."--Tim Fernholz, Campus Progress
Advertisement