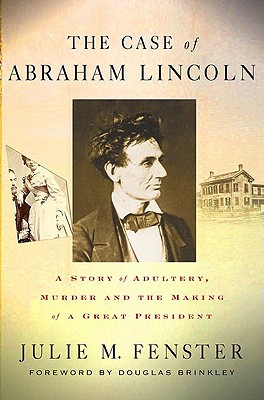 The Case of Abraham Lincoln: A Story of Adultery, Murder, and the Making of a Great President (Hardcover)
A Story of Adultery, Murder, and the Making of a Great President
Palgrave Macmillan, 9781403976352, 256pp.
Publication Date: October 30, 2007
* Individual store prices may vary.
or
Not Currently Available for Direct Purchase
Description
The year 1856 was a pivotal one for this country, witnessing the birth of the Republican Party as we know it. But it was also a critical year in the troubled political life of Abraham Lincoln. As a lawyer, he tried his most scandalous murder case. At the same time, he made a decision which unleashed his soaring abilities for the first time, a decision which reverberates to this day: whether or not to join the new Republican Party. The Case of Abraham Lincoln offers the first-ever account of the suspenseful Anderson Murder Case, and Lincoln's role in it. Bestselling historian Fenster not only examines the case that changed Lincoln's fate, but portrays his day-to-day life as a circuit lawyer and how it shaped him as a politician. In a book that draws a picture of Lincoln in court and at home during that memorable season of 1856, Fenster also offers a close-up look at Lincoln's political work, much of it masterful, some of it adventurous, in building the party that would change his fate – and that of the nation.
About the Author
Julie M. Fenster is the co-author (with Douglas Brinkley) of "The New York Times" bestseller "Parish Priest." Her books include the award-winning "Ether Day "and "Race of the Century." A regular contributor to "American Heritage," Fenster has also written for "The New York Times "and the "Los Angeles Times. "She lives in Syracuse, New York.
Praise For The Case of Abraham Lincoln: A Story of Adultery, Murder, and the Making of a Great President…
"[The Case of Abraham Lincoln is a beautifully nuanced portrait of Lincoln in the turning-point year of 1856 when the former Whig joined the new Republican party, gave what many considered to be his greatest speech and suddenly found himself a national figure." - Patrick T. Reardon, Chicago Tribune
"The microview Fenster offers of both Lincoln's life and the daily experience in mid-19th century Springfield is fascinating...Fenster does an excellent job of allowing us to watch [Lincoln] grow, almost as if by time-lapse photography...a gem indeed." - Marjorie Kehe, Christian Science Monitor
"Through the lens of a sensational 1856 Springfield, Ill., murder case, a historian focuses on Abraham Lincoln the lawyer and politician, four years before his election to the presidency… An unexpected, odd-angle approach to Lincoln that proves marvelously insightful."—Kirkus (Starred review)
"what The Case of Abraham Lincoln: A Story of Adultery, Murder and the Making of a Great President achieves is something few college history courses -- and certainly accompanying textbooks -- are able to: great storytelling." -- Chicago Sun-Times
"In [The Case of Abraham Lincoln] we learn how Abraham Lincoln averted one looming if by comparison rather small injustice, and also how he began the business of ending a much vaster and more terrible one." - Fredeic Smoler, AmericanHeritage.com
"The Case of Abraham Lincoln provides an intense view of Lincoln's life shortly before he ran for President of the United States. It is an interesting take on well-trod biographical territory." - Salem Press
"Biographies of Lincoln usually portray him as a civilian lawyer or political president, with a clear divide between his careers. Fenster bridges Lincoln's two professional worlds in her book, which centers around Lincoln's role as defense counsel in an 1856 murder trial in Springfield, Illinois...reveals the origins of Lincoln's political greatness." - Choice
Advertisement