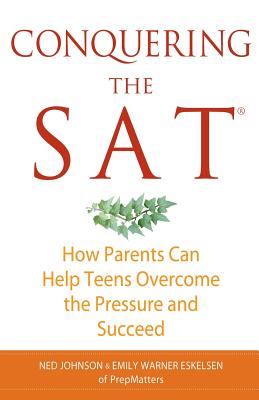 Conquering the SAT
How Parents Can Help Teens Overcome the Pressure and Succeed
Paperback

* Individual store prices may vary.
Description
This insightful and practical guide for parents shows how we often undermine rather than encourage our teens' success on one of the most stressful standardized tests the SAT and what strategies will remedy the problem. In recent years this test has taken on fearsome proportions, matched only by the growing competition for slots at major universities. Success is now as much a matter of navigating the maze of changing testing structures, crippling self-conceptions, and family dynamics as it is about memorizing vocabulary words. Tutors Ned Johnson and Emily Warner Eskelsen tackle the trials of the SAT head-on, revealing that the way our culture values this test is just as important as the answers teens fill in. Johnson and Eskelsen cover a wide range of topics including:
* Anxiety and ways to avoid "choking" on the test
* Best ways to prepare before the test from exercise to nutrition to sleep
* Family communication
* What the SAT is actually testing
* How test-taking strategies will help teens in all walks of life
* Learning differences in teens and strategies for success.
Praise For Conquering the SAT: How Parents Can Help Teens Overcome the Pressure and Succeed…
"A good college education is more important than ever in today's global economy. Desirable or not, standardized tests are an essential element to college admissions. Johnson and Warner have written an insightful and common-sense guide on how to prepare for these tests; we know how good they are--two of our children are PrepMatters alumni."--Judy Woodruff, Special Correspondent, PBS NewsHour with Jim Lehrer "Johnson and Eskelsen write in an encouraging and positive tone that will inspire parents to not only fully believe in their children's success, but to gain a better understanding of what their teen is going through...Sound advice..."--Kirkus "Test prep guru Ned Johnson brilliantly distills his wisdom, experience, and insightful analysis into an indispensable and engagingly readable guide for navigating the rocky shoals of the SAT. Required reading for all parents of college-bound students."--Victoria McMullen, M.Ed., Reading Specialist, Rockville, Maryland
"There is much that is vexed about the college admissions process--not least the role of the SAT. Few people have more wisdom about the process or empathy for its objects--our children--than Ned Johnson. He shares in this important book the wise counsel he has been providing his lucky pupils."--Lawrence Summers, former Treasury Secretary for President Clinton, former President of Harvard University
"Ned Johnson's confidence with and extensive insight into the SAT made my own test much less traumatic. Ned taught me to relax and to think about the test as something I could conquer."--Kathleen Lawler, Yale University
"Every person that so much as glances at this book should take its lessons to heart. When Ned was my SAT tutor, he scribbled some words of advice on a stray note card. 'The key to being in the zone is to focus on the process.' I attribute the jump in my SAT score and my admission to the University of Pennsylvania to that note card, which, five years later, still hangs in my room for inspiration."--Shira Epstien, University of Pennsylvania
"Ned Johnson's mastery of the subject matter, coupled with his pragmatic approach to tackling the SAT, enabled me to achieve a great score on the test and consequently acceptance into my first choice college."--Brendan Sparrough
"Ned Johnson is a benevolent example of the visionary American entrepreneur. His meticulously crafted teaching techniques have resulted in thousands of young students increasing their overall self-confidence through dramatically improved test scores. My son benefited greatly from Ned's insightful and sensitive tutoring. Ned will continue to successfully lead Generation X through the minefield of standardized testing."--George Crowley, Crowley Tech
"We had heard about the PrepMatters success stories when our son was in the 7th grade. Even though our son had some issues with dyslexia, his hard work landed him on the high honor rolls in his academically competitive school. We knew that he had what it would take to get into the college of his choice except for that standardized test score. Ned tutored him for several months . . . We will never forget that scream from Joe's room when he went online to see his great test scores! Joe got into his first choice college where he ranked in the top 10% of his freshman class."--Ann Steckmeyer, Bethesda, Maryland
"Ned comprehends the peculiar anxiety associated with the new, monolithic SAT in a fashion that few adults do. He has deprived himself of sleep, food, and bathroom breaks to more effectively understand the test that has become acutely paramount in recent years. He is a supremely sensitive and concerned mentor . . ."--Andrew Kincaid, University of Pennsylvania
"Conquering the SAT offers insightful commentary about the nature of standardized testing and the value that we place upon it in American society. More importantly, though, it illuminates unique strategies for parents who want to learn the ins and outs of the college admissions hierarchy and get their kids to the top of it . . ."--Paul Moskowitz, former PrepMatters student
 
"I went to Ned in the middle of my junior year in high school. I had never been a great test taker, but set high goals for myself on the SAT. During my first tutoring session, Ned told me to take the pressure off of myself by placing the SAT in its proper context . . . I can honestly say that I would not have made it through the SAT without him."--Austin Clarke, Yale University
 
"As a PrepMatters alumna, I can proudly say that Johnson and Warner's methods helped to improve my score by nearly 300 points. With their guidance I learned how to overcome my test anxiety, and gained both important skills and the confidence I needed to truly conquer the SATs. The college process was significantly less stressful for both me and my family thanks to their instruction."--Anna Salzberg, Kenyon College
 
"Ned Johnson approaches SAT preparation from a uniquely individual perspective. By breaking down each section of the test into a step by step process, Ned has demystified this test. His strategies help students find a clear and specific approach and give them confidence to do their best on this most stressful test. High school students should begin their studying with this book."--Rhona M. Gordon, M.S., C.C.C., ASHA Certified Speech/Language Pathologist
 
"Ned taught me skills and strategies that I will use forever and most importantly built my confidence which dramatically enhanced my performance on tests."--Mia Ferrara, Georgetown University
 
"Although Ned Johnson certainly taught both of my children valuable strategies for facing down the PSATs and the SATs, he distinguished himself in this mother's heart by caring for them as individuals and giving them concrete ways to combat anxiety so it did not interfere with their performances on these dreaded tests. Ned was a cheerleader and friend to my children at a time when they sorely needed an objective adult in their lives telling them that they could succeed at this! He also helped us--parents and children alike--keep the meaning of the test in a very healthy perspective."--Linda Reider, mother of Suzanne and Rob, Bowdoin College
 
"Through tremendous personal dedication to the mastery of the SAT, Ned has put himself into the minds of the student and the ETS to provide exclusive tactics on how to excel on America's most important test . . . Like a marathon trainer, Ned coaches students mentally and physically for the long race ahead. His qualifications are top-notch, his advice fresh, and his results unsurpassed."--Melissa Giamo, Pepperdine University
 
"An indispensable survival guide for all parents of SAT test-takers."-- Julia Novitch, Yale University "Lively and easy to digest. This book should be in the collection of every public and high school library..."--Library Journal "The authors offer sound advice on how parents can take into account learning differences in helping a child prepare for the SAT. A valuable resource to partner with those huge test-prep books, this one aimed at parents."--Booklist
Palgrave MacMillan, 9781403976673, 229pp.
Publication Date: December 1, 2006
About the Author
Ned Johnson is the founder and president of PrepMatters, Inc., and is one of the most sought-after tutors in Washington, D.C. Emily Warner Eskelsen has worked at PrepMatters for several years. The authors have logged over 30,000 hours of SAT tutoring.
or
Not Currently Available for Direct Purchase