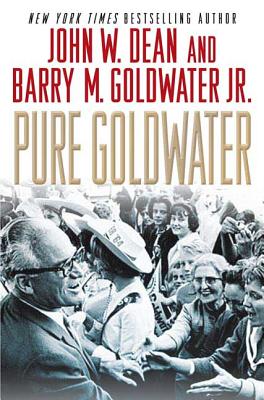 Pure Goldwater (Hardcover)
Palgrave MacMillan, 9781403977410, 399pp.
Publication Date: April 15, 2008
Other Editions of This Title:
Paperback (10/13/2009)
Pre-Recorded Audio Player (7/1/2009)
MP3 CD (6/1/2008)
Compact Disc (6/1/2008)
Compact Disc (6/1/2008)
* Individual store prices may vary.
Description
Barry Goldwater is a defining figure in American public life, a firebrand politician associated with an optimistic brand of conservatism. In an era in which American conservatism has lost his way, his legacy is more important than ever. For over 50 years, in those moments when he was away from the political fray, Senator Goldwater kept a private journal, recording his reflections on a rich political and personal life. Here bestselling author John Dean combines analysis with Goldwater's own words.
With unprecedented access to his correspondence, interviews, and behind-the-scenes conversations, Dean sheds new light on this political figure. From the late Senator's honest thoughts on Richard Nixon to his growing discomfort with the rise of the extreme right, "Pure Goldwater "offers a revelatory look at an American icon--and also reminds us of a more hopeful alternative to the dispiriting political landscape of today.
About the Author
John W. Dean is a former Nixon White House counsel and the New York Times-bestselling author of Worse than Watergate and Conservatives without Conscience. Barry M. Goldwater, Jr. is a former Congressman from California, and is the son of Senator Barry Goldwater.
Praise For Pure Goldwater…
"An invaluable chronicle of the times."--Publishers Weekly (starred review, Web Pick of the Week) "Of all the books on 'Mr. Conservative,' Pure Goldwater might provide the most realistic insights into his character and thinking. After the birth of Barry Jr., Goldwater started a private journal...that journal is the basis of Pure Goldwater — so, in effect, it is a book written by the senator himself, capturing his most intimate thoughts for those closest to him."--The National Review "It's a fitting tribute to a real straight talker, a fine Senator, and one of the most influential conservatives of the past 50 years."--The National Review
"A sprawling treasure trove . . . Goldwater is worth rediscovering . . . Conservatives--and liberals, too--take note."--Washington Post Book World "A field guide to the presidential and legislative politics of the middle to late 20th century. Reading Goldwater's descriptions of everything from behind-the-scenes dealings in the Senate or his interactions with Richard Nixon... will provide a literary fix for even the hardest core political junkies... By compiling his writings and publishing many of them in Pure Goldwater, the editors have performed a great public service."--The Washington Times "The policy thought on display here and throughout the book will by turns delight and infuriate every part of the political spectrum . . . No Goldwater fan can do without a copy . . . readers can get their fix of the unscripted, unghosted conscience of a conservative from Pure Goldwater."--Daniel McCarthy, Reason "Goldwater's own words are readable, agree with him or not... entries are thoughtful, informed, even scholarly."--Theo Lippman, Jr., The Baltimore Sun "An engaging memoir... [Goldwater's writings] include funny, salty remarks that add to the folksy style... The editors show Goldwater's ultimate success as being remembered as he hoped to be: 'an honest man who tried his damndest.' Recommended."--Karl Helicher, Library Journal "Particularly interesting."--Arizona Republic "Pure Goldwater provides new insights into the man viewed by many as a founding figure in modern American conservatism. There's plain talk on a range of political issues here, but also personal glimpses... the journal entries about President Richard Nixon and Watergate are particularly eye-opening."--The Desert Sun  Praise for Conservatives without Conscience:"A detailed . . . powerful case in a riveting book."--Los Angeles Times"Searing . . . an angry indictment."--The Washington Post"Dean has again amassed evidence of a cancer growing on the presidency."--The New York Times Book Review
or
Not Currently Available for Direct Purchase