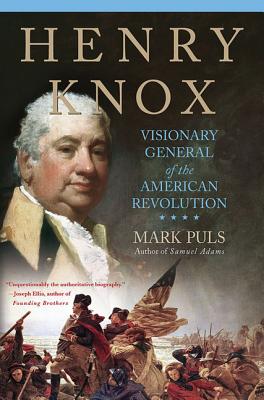 Henry Knox
Visionary General of the American Revolution
Hardcover

* Individual store prices may vary.
Other Editions of This Title:
Paperback (5/11/2010)
Description
Here is a compelling portrait of the Revolutionary War general whose skills as an engineer and artilleryman played a key role in all of George Washington's battles including the Siege of Boston (where his use of cannons at Dorchester Heights won back the city) and the Battle of Trenton (where he was in charge of Washington's crossing of the Delaware River). Knox became an major advocate of the U.S. Constitution and served as the nation's first Secretary of War. He was co-founder of the U.S. Navy, laid the foundations for the U.S. Military Academy at West Point and negotiated treaties and set policy with Native Americans.With nail-biting battle scenes, patriotism and deep understanding of his subject, Mark Puls breathes new life into the American Revolution and firmly assigns Knox to his deserved place in history.
Praise For Henry Knox: Visionary General of the American Revolution…
"Mark Puls gives us an action-packed account of Knox's life in uniform and in government service and provides a fitting portrait of one of America's greatest leaders. Truly this was an amazing man -- a man to whom Americans owe a great debt for his willingness to forgo personal riches for the common good. It was a pleasure to experience this story of his remarkable life." -- The Roanoke Times
"[A] brisk, informative biography...Puls's authoritative and absorbing account of Knox's life is a fitting tribute to General Washington's "indispensable man." - Publishers Weekly
"Competent biography of Washington's talented young protégé, who commanded the artillery throughout the American Revolution and served as the nation's first Secretary of War...a solid résumé of everything anyone would want to know about this undeservedly neglected not-quite founding father." - Kirkus
"Great man though he was, George Washington did not win American independence by himself. Henry Knox, a self-taught artillery commander, was one of the the Revolution's great figures, and this book explains why we should know more about him. In the hands of Mark Puls, Knox and his beloved wife Lucy come to life in a way that reminds us of the debt we owe the men and women of the Founding generation. " -- Terry Golway, author of Washington's General
"At last, Henry Knox has been discovered by a historian capable of appreciating his contributions as a soldier and statesmen, and who also, no small matter, can write. Knox's attempt to create a just policy toward Native Americans that avoided Indian removal is a poignant story worth the price of admission. This is unquestionably the authoritative biography."--Joseph Ellis, author of Founding Brothers and the forthcoming American Creation: Triumph and Tragedy at the Founding
"Bringing 18th Century America to life is no easy task, particularly when military leaders from the Revolutionary War are at center stage. In Henry Knox, General of the American Revolution, however, Mark Puls does that smoothly and even superbly, making the reader feel familiar and comfortable with all of them, particularly the hero. And hero he truly was, as Puls so well records. This is clearly a masterful work."-- Tom Carhart author of Lost Triumph: Lee's Real Plan at Gettysburg -- and Why It Failed
Praise for Puls'
Samuel Adams
:"Any Founding Father who ends his days in such a fighting spirit deserves still more of our attention.
Samuel Adams
is a good place to start."--
The Wall Street Journal
"Here, at last, is a new life of the man that recovers his crucial role as the Lenin of the American Revolution."--Joseph J. Ellis, author of
Founding Brothers
"American history buffs will enjoy Puls' fine study."--
Publishers Weekly
"A sharply focused biography of the mastermind behind the American colonies' break with England."--
Kirkus
Palgrave MacMillan, 9781403984272, 282pp.
Publication Date: February 5, 2008
About the Author
Mark Puls is the author of Samuel Adams: Father of the American Revolution, winner of the Fraunces Tavern award, and co-author of Uncommon Valor: A Story of Race, Patriotism and Glory in the Final Battles of the Civil War. Puls has worked as a journalist for The Detroit News.
or
Not Currently Available for Direct Purchase