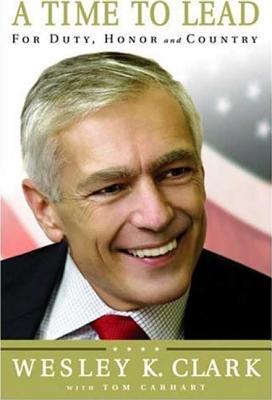 A Time to Lead: For Duty, Honor and Country (Hardcover)
For Duty, Honor and Country
Palgrave MacMillan, 9781403984746, 262pp.
Publication Date: September 1, 2007
* Individual store prices may vary.
or
Not Currently Available for Direct Purchase
Description
Four-star General Wesley K. Clark became a major figure on the political scene when he was drafted by popular demand to run for the Democratic nomination for President of the United States in 2003. But this was just one of many exceptional accomplishments of a long and extraordinary career. Here, for the first time, General Clark uses his unique life experience from his difficult youth in segregated Arkansas where he was raised by his poor, widowed mother; through the horror of Vietnam where he was wounded; the post-war rebuilding of national security and the struggles surrounding the new world order after the Cold War as a springboard to reveal his vision for America, at home and in the world. General Clark will address issues such as foreign policy, the economy, the environment, education and health care, family, faith, and the American dream.
Rich with breathtaking battle scenes, poignant personal anecdote and eye-opening recommendations on the best way forward, General Clark's new book is a tour de force of gripping storytelling and inspiring vision.
About the Author
General Wesley K. Clark served in the United States Army for thirty-four years and rose to the rank of four-star general as NATO's Supreme Allied Commander, Europe. He is author of the best selling books Waging Modern War and Winning Modern Wars. He lives in Little Rock, Arkansas. Tom Carhart holds a B.S. from West Point, two Purple Hearts from Vietnam, a J.D. from the University of Michigan Law School, and a Ph.D. in American and military history from Princeton University. The author of five military history books, his latest is Lost Triumph: Lee's Real Plan at Gettysburg--and Why It Failed. He lives in Northampton, Massachusetts.
Praise For A Time to Lead: For Duty, Honor and Country…
"My friend Wes Clark has written his powerful story of how the promise
of America empowered a young boy, more with patriotism than money, to become a man, a soldier and a hero.  Wes offers us hard-won lessons in leadership and the value of discipline and determination. Anyone interested in leadership or improving their own lives should read this book."--President Bill Clinton "In the dialogue about America's role in the world, Wesley Clark's voice needs to be heard. His military experience and unique leadership qualities form the foundation of his thinking and have earned him a key role in the Democratic Party. In the personal stories found in this beautifully written book, there are valuable lessons that can be applied to today's dilemmas."--Nancy Pelosi, Speaker of the House "General Clark adeptly employs his autobiography to convey the meaning and importance of leadership.  A Time to Lead teaches essential life-long lessons and principles, and provides keen historical insights into the current state of world affairs.  As one of the most successful commanding officers in the U.S. Army, no one is more qualified to teach leadership."--Harry Reid, U.S. Senate Majority Leader
 "In a time when U.S. foreign policy must be adroit for our nation to be safe and successful, its no surprise that leading Democrats have been tapping Wes Clark for advice. A winner-without loss of American life-in Kosovo, and a predictor of the mess in Iraq, Clark's story is a timely reminder that the best way to be tough in the 21st century is to be very, very smart."--Bill Maher 
"Wesley Clark and I shared similar career experiences: both West Point Graduates, we both found ourselves exposed to high-level military and political responsibilities and found our convictions shaped by the administrations we served. A Time To Lead confirms the rewarding benefits of military service at a time when such service is experiencing considerable strain. It also includes a comprehensive description of America's current national imperatives, which deserve serious consideration."--General Alexander M. Haig, Jr., former Secretary of State
"Wesley Clark is on the path to become a great leader--an FDR or an Eisenhower--and in this book he shows us why: because he understands in depth the crisis America faces, and he remains undaunted. Insightful, passionate, intelligent, and battle-tested, Clark's vision can restore America's leadership in the world."--Eduardo Morgan, former Ambassador to the United States for Panama
"Four-star General Wesley Clark is a true-blue American hero and natural-born military strategist. In his thoughtful new book,
A Time to Lead
, Clark combines personal anecdote with sharp policy ideas to issue a sensible and uplifting blueprint for our nation's future. A real gem of a book."--Douglas Brinkley, Professor of History, The Baker Institute; Fellow, Rice University and author of
The Great Deluge
and
The Reagan Diaries
 "From his modest beginnings in Arkansas to leading NATO forces to their first victory in war, the story of General Wesley Clark's life is truly inspirational. 'A Time to Lead' teaches us through example that true leadership is moral courage: speaking up for what is right and necessary - without regard to personal risk. Its lessons are a powerful resource for military and civilian leaders facing today's imminent challenges"--Javier Solana, Secretary-General of the European Union "General Clark has produced a clear and compelling description of what we need to do to defeat terrorism, rebuild our economy and restore our global leadership role. In so doing, this war hero, successful diplomat and brilliant Rhodes Scholar demonstrates exactly the kind of skills, experience and leadership we need to show us the way."--Mario Cuomo, former Governor of New York "Wesley Clark's life epitomizes the American Dream-successfully overcoming life's obstacles through applied dedication, courage and faith-and the All American Hero, whose deep love for our nation and humanity led to great personal sacrifice and an exemplary career of public service. Wesley Clark's practical vision for a peaceful, prosperous America is one that we can and should embrace."--Donna Brazile, author of
Cooking with Grease: Stirring the Pots of American Politics
and former campaign manager for Al Gore for President 2000 "Wes Clark has produced a wonderful forward-looking memoir. It uses the inspiring events in his life, both in war and peace, as a springboard to provide lessons for the future. It's a joy to read and a trove of interesting ideas."-- Walter Isaacson, CEO of the Aspen Institute "Inspirational insights from a gifted leader with a solid grasp of the issues challenging America at home and abroad--a leader with proven talent for motivating people and achieving historic results."--General John Wickham, Army Chief of Staff 1983-1987 "I was fortunate to serve as General Clark's Deputy in Belgium when he was Supreme Allied Commander and I saw at first hand his masterly handling of events in the Balkans; where by intellect, courage, determination and sheer military skill, he succeeded when none thought this was possible. He established a model for peace and reconstruction, which those involved in Iraq and Afghanistan today can only long for. His book gives a fascinating and very human insight of his unique life experiences which led up to this success, and which have shaped his vision for America and the post cold war Europe. An important book which sheds new light on many of the difficult issues facing those involved in warfighting or peacemaking today." --General Sir Jeremy Mackenzie GCB OBE DL "Wes Clark has written more than a life story. This is a primer on leadership forged in battle and by decades of experience.  I have watched Wes Clark demonstrate exceptional leadership from our teenage years at West Point through Vietnam, the Cold War, Kosovo, politics, marriage and fatherhood.  This isn't just a book; it's a manual for leading people and living a good life."--Barry McCaffrey, General, USA (ret.) "An earnest reflection on war and peace from a commander's unique point of view"--
Kirkus
 "A combination memoir, patriotic tract, and broadside about contemporary American politics."--
Publisher's Weekly
 "In direct, unadorned prose, Clark imparts his conviction of the anticommunist cause in Vietnam and his significan controbution to the army's recovery in the 1980s."--
Booklist
Advertisement