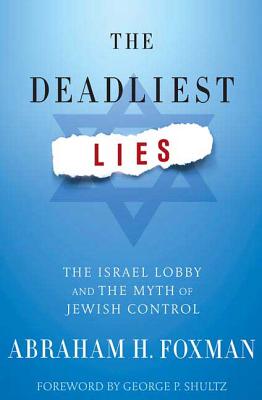 The Deadliest Lies: The Israel Lobby and the Myth of Jewish Control (Hardcover)
The Israel Lobby and the Myth of Jewish Control
Palgrave MacMillan, 9781403984920, 256pp.
Publication Date: September 1, 2007
* Individual store prices may vary.
or
Not Currently Available for Direct Purchase
Description
"The" representative of the Jewish community and staunch defender of human rights, Foxman delivers a powerful blow to such ideas as "The Israel Lobby." He shows how old stereotypes associated with the most virulent forms of bigotry have been resurfacing and taking subtle new forms. From Carter to Mearsheimer, he addresses the public figures who make these beliefs appear credible. He also reveals a disturbing parallel trend: the decline of global Jewish solidarity, which he argues is critical for dealing with the current threat. Foxman advocates forthright and decisive solutions to an international crisis, ensuring that this will be an important clarion call.
About the Author
Abraham H. Foxman is the national director of the Anti-Defamation League (ADL) and one of today's preeminent voices against hatred, discrimination, and violence across the world. He is the author of Never Again?: The Threat of the New Anti-Semitism.
Praise For The Deadliest Lies: The Israel Lobby and the Myth of Jewish Control…
"Foxman demolishes a number of shibboleths . . . a rebuttal of a pernicious theory about a mythically powerful Jewish lobby."--Publishers Weekly "Today there appears to be a cottage industry of those writing about the Israeli Lobby. Most of the books to date have been neither serious nor analytical. On the contrary, they have been misleading and often fallacious, reflecting both a tendency to rewrite history and to misunderstand the policy process. Abe Foxman provides a highly readable antidote. Apart from explaining why there has been a tendency to find a simple-minded scapegoat for the troubles in American foreign policy after 9/11 and our travails in Iraq, Foxman offers a reasoned and systematic critique of what President Jimmy Carter and Professors Mearsheimer and Walt have written. More importantly, he presents useful criteria for how to shape an open, civil, and far-reaching debate on our policy toward the Middle East. Rarely has a book been more timely."--Ambassador Dennis Ross, former American envoy to the Arab-Israeli peace process and author of Statecraft and How to Restore America's Standing in the World "Abe Foxman is not merely a tribune in defense of the Jewish people against its suddenly stronger adversaries. He is a scholarly analyst of these adversaries' falsifications. Not only that:  his style is lively, decisive, and riveting."--Marty Peretz, Editor in Chief, The New Republic "Conspiracy theories are a measure of a society's mental health; when on the rise, trouble lies ahead. In The Deadliest Lies, Abraham Foxman diagnoses the 'Israel Lobby' conspiracy theory and reveals how sick it is. In doing so, he does a service to all Americans."--Charles Hill, Distinguished Fellow in International Security Studies, Yale University "Abe Foxman, one of the most passionate men in public life, has written a sober, methodical, and laudably dispassionate indictment of well-known politicians, pundits, and professors who dress up centuries-old canards about Jews in more acceptable twenty-first century garb. The impact his work will have on the credibility of the pseudo-scholarship he debunks is devastating."--Robert Satloff, executive director of The Washington Institute for Near East Policy and author of Among the Righteous "Abe Foxman's new volume demonstrates it again: whenever the Jewish people or Jewish honor need to be defended, his voice is both courageously eloquent and
powerful."
--Elie Wiesel Praise for Never Again?: "Few would refute the power and truth behind Foxman's argument."--The New York Times Book Review"Foxman confronts a subtle and disturbing trend with objectivity, meticulous research, and clarity."--Henry Kissinger"Never Again? requires answers, demanding both diligence and documentation. Foxman has provided both."--The Washington Times
"Foxman reminds us that vigilance is essential to protect our communities from nightmarish futures that are all too possible."--former Senator Bill Bradley
Advertisement