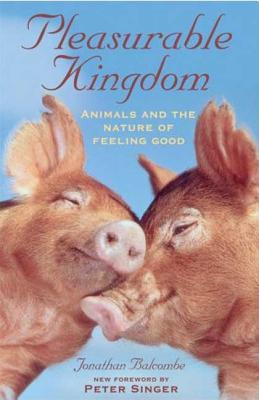 Pleasurable Kingdom (Paperback)
Animals and the Nature of Feeling Good (MacSci)
St. Martin's Griffin, 9781403986023, 360pp.
Publication Date: July 10, 2007
Other Editions of This Title:
Hardcover (5/2/2006)
* Individual store prices may vary.
Description
Pleasurable Kingdom presents new evidence that animals--like humans--enjoy themselves. From birds to baboons, insects to iguanas, animals feel good thanks to play, sex, touch, food, anticipation, comfort, aesthetics, and more. Combining rigorous evidence, elegant argument and amusing anecdotes, leading animal behavior researcher Jonathan Balcombe shows that the possibility of positive feelings in creatures other than humans has important ethical ramifications for both science and society.
About the Author
Jonathan Balcombe is the director of animal sentience at the Humane Society Institute for Science and Policy and the author of Second Nature and Pleasurable Kingdom. A popular commentator, he has appeared on The Diane Rehm Show, the BBC, and the National Geographic Channel, and in several documentaries, and is a contributor of features and opinions to The New York Times, The Washington Post, The Wall Street Journal, Nature, and other publications. He lives in Maryland.
Praise For Pleasurable Kingdom: Animals and the Nature of Feeling Good (MacSci)…
"In Pleasurable Kingdom, Balcombe draws together an extraordinary amount of information to help us to appreciate that we are not the only species that can, if all goes well, live joyful lives." —Peter Singer
"Dr. Balcombe convincingly argues that animals are individual beings with a wide range of emotions and feeling. If he is correct - and I believe he is - it follows that we must grapple with the ethical consequences of his important insights." —Wayne Pacelle, President & CEO, The Humane Society of the United States
"I predicted, in When Elephants Weep, that in ten years better scientists would write better books about the depth of feelings in animals. Well, that time has come, and here is that book." —Jeffrey Moussaieff Masson, Author, When Elephants Weep
"For centuries humanity has justified our extermination of fishes with the myth that they do not have feelings or intelligence. Jonathan Balcombe exposes this myth and presents fishes, with other animals, as sensitive, social, feeling, marvelous sentient beings." —Captain Paul Watson, founder of Greenpeace and Sea Shepherd Conservation Society
"entertaining examples of animal bliss -- from drunken parrots to the caresses of fiddler crabs -- bring a pleasure all their own." —Psychology Today
"This genial scientist's accounts of enjoyment in the other-than-human world will irritate strict behaviorists and profoundly delight animal lovers." —Orion Magazine
"Brisk, erudite and enormously entertaining...an excellent, approachable introduction to the basic issues in animal behavior." —Publishers Weekly
"This entertaining and thought-provoking book is recommended for popular science collections." —Library Journal
"A warm and enjoyable book...anyone with an interest in animal welfare (or just in animals) ought to read it." —www.popularscience.co.uk
"This impressive book takes the reader on a journey of scientific knowledge and understanding into the inner lives of other creatures, from mice to monkeys and fish to fowl-- and even insects and worms---that inspires respect and appreciation for all creatures great and small. Dr. Balcombe's book should be a standard text for students of biology and ethology, and all who care for animals will be informed and inspired." —Michael W. Fox, veterinarian, newspaper columnist and author of The Boundless Circle: Caring for Creatures and Creation
"Pleasurable Kingdom is a love affair with our fellow beings. Balcombe tempts us to consider, more open-mindedly than ever before, the experiences of animals in more ways than traditional science has yet acknowledged, perhaps even imagined." —Professor Jaak Panksepp, author of Affective Neuroscience
"This book is one in which all campaigners for good animal welfare should invest." —The Ark
"...a joy to read--a carefully balanced book--which also includes some humorous, enlightening and intriguing animal tales." —www.scienceagogo.com
"Superb--has set an agenda for future research. This book will change how we interact with other animal beings." —Marc Bekoff in Trends in Evolution and Ecology
"Marvelous -- as the first book in this field, scholarly or popular, we also have one that sets a high bar." —Journal of Applied Animal Behavior Science
"A touching look at the complex and at times playful lives of the animals with which we share this planet. Fascinating and often moving, this book emphasizes that animals – like us – truly have personalities, minds and emotions." —Jane Goodall