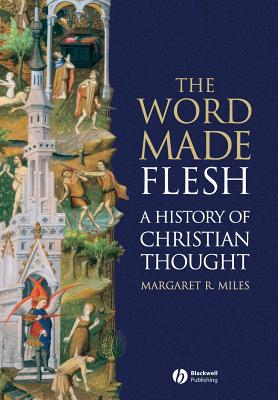 The Word Made Flesh: A History of Christian Thought [With CD-ROM] (Paperback)
A History of Christian Thought [With CD-ROM]
Blackwell Publishers, 9781405108461, 435pp.
Publication Date: November 8, 2004
Description
This outstanding textbook offers an original history of Christian thought, asking what it has meant over the centuries to participate in the religion of the Word made flesh.


Traces Christian ideas, conversations, experiences and practices from the first century through to the dawn of modernity at the end of the eighteenth century.

Presents an inclusive history, considering the critical roles of women and religious 'others'- dissenting Christians, Jews and Muslims - in shaping Christian thought.

Sets Christian ideas in the context of conversations, controversies and concrete circumstances.

Demonstrates the importance of liturgical and devotional exercises to the practice of Christianity.

Treats words, images, music and architecture all as primary evidence of Christian traditions.

Is accompanied by a CD Rom containing hundreds of visuals to support the theories and examples discussed throughout the volume.
About the Author
Margaret R. Miles is Emeritus Professor of Historical Theology at the Graduate Theological Union, Berkeley. As Bussey Professor of Theology, she taught the history of Christian thought for 20 years at Harvard University Divinity School. Her previous books include Plotinus on Body and Beauty (Blackwell, 1999), Reading for Life (1996), Seeing and Believing (1996), Desire and Delight (1993), Practicing Christianity (1988), and Carnal Knowing (1988).
Advertisement