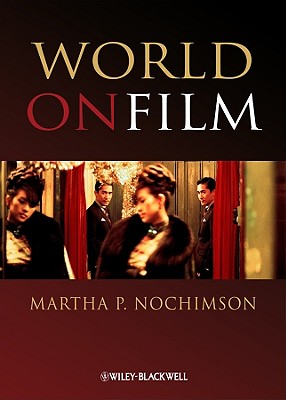 World on Film (Hardcover)
An Introduction
Wiley-Blackwell, 9781405139786, 447pp.
Publication Date: February 22, 2010
* Individual store prices may vary.
Description
This uniquely engaging and lively textbook provides a comprehensive introduction to international film, from the golden age of European cinema to the contemporary blockbusters of India and Asia, and the post World War II emergence of global film culture.
Offers an overview of film culture in European countries such as France, Sweden and Spain, as well as Africa, Hong Kong, China, and India, in a clear and conversational style to engage the student reader
Provides a detailed exploration of the impact of globalization on international cinema
Includes a comprehensive companion website (www.wiley.com/go/worldonfilm) with an expansive gallery of film stills also found in the text, plus access to sample syllabi for faculty and a detailed FAQ
Addresses the differences in visual and narrative strategies between Hollywood-influenced movies and international cinema

Highlights key words within the text and provides a comprehensive glossary of critical vocabulary for film studies

Each chapter includes in-depth case studies of individual films and directors, cultural and historical context, selected filmographies, and ideas for projects, essays, and further research
About the Author
Martha P. Nochimson's career includes not only a rich academic portfolio, but also a few stints writing for the commercial media. Her ninth book, Television Rewired: The Rise of the Auteur Series will be published on July 15, 2019. Her earlier work includes The Passion of David Lynch: Wild at Heart in Hollywood; David Lynch Swerves: Uncertainty from Lost Highway to Inland Empire; Dying to Belong: Gangster Movies in Hollywood and Hong Kong and the Wiley Companion to Wong Kar-wai. She is known for including in her research for her book projects in-depth, in-person interviews with major writers, directors, and actors in film and television. She has taught at the Tisch School of the Arts (NYU), and she developed and chaired a film studies program for Mercy College. Currently, she is teaching at the David Lynch Graduate Program in Cinematic Arts. She has written scripts for all the major television networks, and worked as a story editor at CBS-TV. She has covered the New York Film Festival for 18 years, and has also covered the Istanbul International Film Festival and the Montreal Film Festival. She is a long-time member of the Columbia University Seminar on Cinema and Interdisciplinary Interpretation and writes a blog called "Eye on Media" for the website of the Alliance of Women Film Journalists.
or
Not Currently Available for Direct Purchase