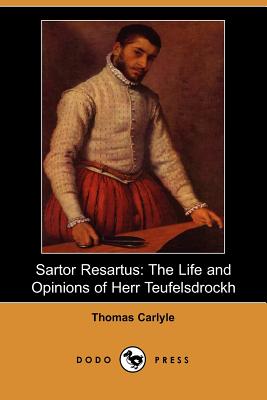 Sartor Resartus (Paperback)
The Life and Opinions of Herr Teufelsdrockh
Dodo Press, 9781406512809, 212pp.
Publication Date: January 25, 2007
Other Editions of This Title:
Paperback (3/5/2015)
Paperback (7/21/2013)
Paperback (8/27/2018)
Paperback (9/20/2018)
Paperback (8/12/2018)
Paperback (1/1/2009)
Paperback (3/30/2014)
Paperback (5/20/2009)
Paperback, Large Print (11/10/2009)
Paperback (4/21/2014)
Paperback (11/17/2012)
Paperback (11/5/2009)
Paperback (4/5/2013)
Paperback (1/1/2014)
Paperback (2/4/2009)
Paperback (8/7/2019)
* Individual store prices may vary.
Description
Classic study by the Scottish essayist, satirist, and historian, whose work was hugely influential during the Victorian era. After attending the University of Edinburgh, Carlyle suffered an intense crisis of faith and conversion that would provide the material for his most well-known book Sartor Resartus. The book was intended to be simultaneously factual and fictional, serious and satirical, speculative and historical. It ironically commented on its own formal structure, while forcing the reader to confront the problem of where 'truth' is to be found.