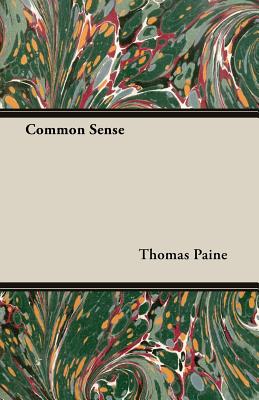 Common Sense (Paperback)
Gardner Press, 9781406782325, 96pp.
Publication Date: October 9, 2007
Other Editions of This Title:
Paperback (12/16/2014)
Paperback (1/22/2015)
Paperback (10/4/2018)
Paperback (6/22/2016)
Paperback (5/28/2013)
Paperback (6/1/2006)
Paperback (7/12/2019)
Paperback (9/11/2014)
Paperback (8/6/2010)
Paperback (9/6/2018)
Paperback (9/1/2014)
Paperback (7/3/2015)
Paperback (4/19/2014)
Paperback (2/21/2009)
Paperback (10/16/2013)
Paperback (6/13/2010)
Paperback (5/29/2010)
Paperback (10/20/2010)
* Individual store prices may vary.
Description
EXPLANATORY NOTICE. The North American Republic consists of twenty-four regularly organized States, and an immense extent of territory not yet formed into States, which, with the exception of some mountain ridges, is wholly susceptible of cultivation. It contains upwards of two millions of square miles, and is therefore thirteen times as large as France, twenty-three times as large as England, and would, were it peopled as densely as these countries, contain FOUR HUN- DRED MILLIONS OF PEOPLE. It is watered on its eastern, western, and part of its southern sides by the ocean, and on part of its northern frontier by immense lakes. It is intersected in This clear and concise statement of the origin of the American war for independence is from an edition of Common Sense published in 1848 by J. Watson, 3 Queens Head Passage, Paternoster Row, London. At that time the English publishers were permitted to print Paines political writings unmutilated, as they now appear, without molestation by the government but the early editions of both Common Sense and the Rights of Man were issued in a very imperfect form to avoid prosecution all adverse criticism of the king or parliament, of tyrants and tyranny, being- sternly suppressed. The vacant lines in the pages of the edition of Common Serree published by J. Almon, opposite Burlingtonhouse in Piccadilly, 1776, and the many suppressed passages in the Rights of Man published by H. D. Symonds, Paternoster-Row, 1792, of J. S. Jordon, 166 Fleet-street, 1791, and many others, are all mute yet eloquent witnesses of the injustice and tyranny exercised by the British government in the 18th century. Am. Pub. all directions by magnificent rivers, and has more facilities for water conveyance than any other continental country it abounds in mines and minerals, and produces everything necessary for the sustenance and enjoyment of mankind. The population of the United States has been several times doubled in periods of less than twenty-five years, it now contains upwards of twelve millions of people, and bids fair at no very distant period to be more populous and powerful than any nation ever was. Such is the present state, and such the prospects of a nation originally settled by men who either ftedj from religious intolerance and persecution to seek peace in the wilderness by men whose notions of liberty were too high to permit them to endure the tyranny they were subjected to at home, or by men who sought their fortunes as commercial speculators or cultivators of the land. From Britons thus circumstanced has sprung a people who have increased in number, wealth, and intelligence with a rapidity of which history furnishes no parallel. Prom the time that the commerce of the North American Colonies became worth the notice of the British Government, it was put under the most pernicious and absurd restraints, for the supposed advantage of the mother country, and laws were occasionally passed here to regulate their internal affairs. In the war which preceded the peace of 1762. the Colonists took a very decided part, and greatly contributed to the conquests made from 5 the French. Canada, which had been taken from that people, was retained by the British, and Florida was ceded to us by Spain. Thus secured from attack by foreign neighbors, Great Britain and her Colonies were more than ever attached to each other. The Americans were proud of the land of their ancestors and gloried in their descent from Englishmen. This state of harmony was, however, of short duration...