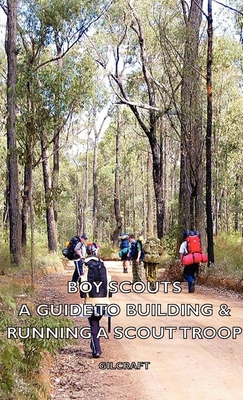 Boy Scouts - A Guide to Building & Running a Scout Troop (Paperback)
Hesperides Press, 9781406797527, 128pp.
Publication Date: June 1, 2006
Other Editions of This Title:
Hardcover (11/4/2008)
* Individual store prices may vary.
Description
Originally published in 1930, this book is an exhaustively detailed manual of instruction and advice on how to build a scout troop. Many of the earliest books, particularly those dating back to the 1900s and before, are now extremely scarce and increasingly expensive. Hesperides Press are republishing these classic works in affordable, high quality, modern editions, using the original text and artwork. Contents Include The Architects Training: How Scouting Began. the Architects Designs: What Scouting Means. The Foundations of the Building: Scout Law. Beginning to Build: Tools ''Opened or Controlled''. Materials to Use: Practices. Beams and Girders: Individuality, Discipline. Assistance in Building: Parents, Church, School. Laying the First Courses: Tender Foot Tests, Investiture. Working to Plan: Outdoor Atmosphere. Adding Another Storey: Second-Class Tests. Roofing the Building: First Class Tests. Decorating: Badges, Handcrafts. Housekeeping: Records, Finance. The Domestic Staff: Scoutmaster, Assistant Scoutmaster, Troop Leader. The Family: Individual Scouts, Boy Nature. The Family Grows up: Looking Ahead, Employment. Annual Repairs: Troop Headquarters, Furnishing Gear. Entertainment: Rallies, Concerts. The Garden: Scouting and Religion, Church Parades. The Out-Of-Doors: Open-air-Scouting. Summer Holidays: Camping. Town and Country: Town Troops. The View from the Windows: Scouter's, Training, Brotherhood.