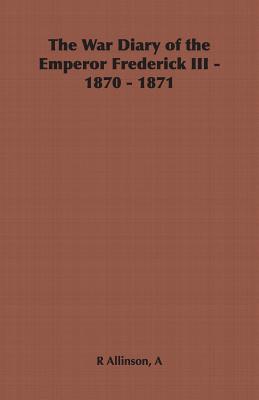 The War Diary of the Emperor Frederick III - 1870 - 1871 (Paperback)
Home Farm Books, 9781406799958, 400pp.
Publication Date: January 1, 2006
* Individual store prices may vary.
Description
Originally published in 1927. Contents Include Foreword Diary-July 11, 1871, to July 17, 1871 Preface Text Appendix Index "The Daily Impressions Received during the Campaign of 1870, 1871 and only Cursorily Jotted down in my Diary under Stress of Military Duties I have Supplemented and Completed since my Subsequent return Home by Extracts from the Correspondence Regularly Maintained between my Wife and Myself. On Principle, however, I was Firmly Resolved to Set down only my Actual, Personal Experiences and Feelings from Day to Day Consequently no Improvement or Alteration has been made under the Influence of Later Events. Thus my Diary is a Contribution to the History of that Great and Memorable War, Containing also much Information, Hardly to be found elsewhere, Throwing Light on the Events of which the outside World takes a View Differing Widely from the Reality. Similarly, the Character of Prominent Personages will often wear another aspect than that in which the Present Age and History represent it. But Revelations of this kind are not for Contemporaries to know I therefore direct that no one else but my Wife and my Grown-up Children is to examine my Diary till the year 1922 is ended. After that there is nothing to Hinder it's Publication." Illustrated with photographs. Many of the earliest books, particularly those dating back to the 1900s and before, are now extremely scarce and increasingly expensive. Home Farm Books are republishing these classic works in affordable, high quality, modern editions, using the original text and artwork.