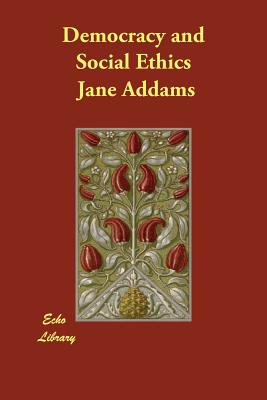 Democracy and Social Ethics
Paperback

* Individual store prices may vary.
Other Editions of This Title:
Digital Audiobook (6/10/2013)
Paperback (4/4/2017)
Paperback (3/15/2006)
Paperback (10/16/2019)
Paperback (11/30/2011)
Paperback (12/13/2012)
Paperback (1/24/2012)
Paperback (5/25/2016)
Paperback (6/1/2015)
Paperback (9/25/2019)
Paperback (1/20/2021)
Paperback (1/24/2009)
Hardcover (10/12/2018)
Paperback (11/13/2009)
Paperback (9/29/2013)
Paperback (4/6/2009)
Hardcover (1/28/2009)
Hardcover (2/5/1964)
Description
Jane Addams (1860-1935) was an American settlement activist, reformer, social worker, sociologist, public administrator, and author. She was an important leader in the history of social work and women's suffrage in the US and advocated for world peace. She co-founded Chicago's Hull House, one of America's most famous settlement houses, and in 1910 was awarded an honorary master of arts degree from Yale, becoming the first woman to receive an honorary degree from the school. In 1920 she was a co-founder of the American Civil Liberties Union (ACLU), and in 1931 became the first American woman to be awarded the Nobel Peace Prize. Addams is recognized as the founder of the social work profession in the US, was a radical pragmatist, and the first woman "public philosopher" in the US. One of the most prominent reformers during the Progressive Era, she became a role model for middle-class women who volunteered to uplift their communities. Addams's book Democracy and Social Ethics, published in 1902, presents the substance of a course of twelve lectures which were delivered at various colleges and university extension centres, parts of which had also appeared in a number of journals including The Atlantic Monthly, The International Journal of Ethics, and The American Journal of Sociology. The subjects covered are Charitable Effort, Filial Relations, Household Adjustment, Industrial Amelioration, Educational Methods, and Political Reform.
Echo Library, 9781406803556, 88pp.
Publication Date: June 30, 2006
or
Not Currently Available for Direct Purchase