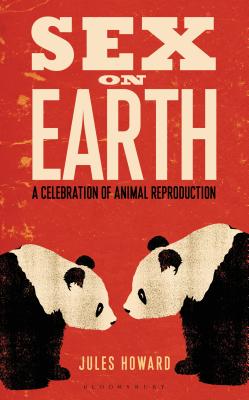 Sex on Earth
A Celebration of Animal Reproduction
Hardcover

* Individual store prices may vary.
Other Editions of This Title:
Paperback (7/5/2016)
Description
One thousand million years ago, a huge revolution occurred on Earth--sex happened for the first time. From that moment on, the world became ever more colorful and bizarre, ringing with elaborate songs and dances, epic battles, and rallying cries as the desires of males and females collided, generation after generation, in an unbroken chain of sex going back to the dawn of complex life on Earth.
Animal life rings, bleeds, and howls with sex. It's everywhere. Right now warring hordes are locking horns, preening feathers, rampaging lustfully across the savanna, questioning the fidelity of the ones they love. A million females choose; a billion penises ejaculate (or snap off); a trillion sperm battle, block, and tackle. Sex made planet Earth, well, sexy.
Writing in a brilliantly engaging style, biologist Jules Howard leads readers on a guided tour of the how and why of sex on Earth, in all its diversity. From sperm wars to cuckoldry, hermaphrodites, virgin births, "exploding" penises, and mallards' "booby-trapped" vaginas, Sex on Earth explores and celebrates the wonders and peculiarities of animal reproduction.
Praise For Sex on Earth: A Celebration of Animal Reproduction…
"A refreshingly self-aware exploration of the most intimate moments in nature and how the incredible variety of life has led us to frame our own thoughts about this near-ubiquitous biological drive." —Brian Switek, National Geographic
"Howard has written with Bill Bryson--like wit about the sex of pandas, dinosaurs, frogs, flamingos, hedgehogs, insects, and other creatures. Readers may laugh while they learn." —Booklist
"A writ­er who blends professional expertise in zoology with charm, wit, and a cockeyed sense of humor. What better guide through nature's red-light district could one ask for?" —Natural History Magazine
"[D]oes an admirable job of separating the scientific from the smutty . . . this book is highly entertaining and informative." —John Bradshaw, BBC Focus
"[T]he infectious optimism of his fascination with an Earth full of beings doing exactly what they need to go on gives the reader a comforting sense that, in the grand scheme of things, everything is right with the world." —Publishers Weekly
"Howard's jubilant sense of discovery and his delight in telling what he has found make him a bright, cheeky guide to an intriguing and essential part of the natural world." —The Dispatch
Bloomsbury Sigma, 9781408193419, 272pp.
Publication Date: December 2, 2014
About the Author
Jules Howard is a zoologist, nature writer, and blogger (www.juleshoward.co.uk). He is a regular contributor to the Guardian, the Independent, and BBC Wildlife Magazine. This is his first book. Howard lives in Northamptonshire, England.
or
Not Currently Available for Direct Purchase