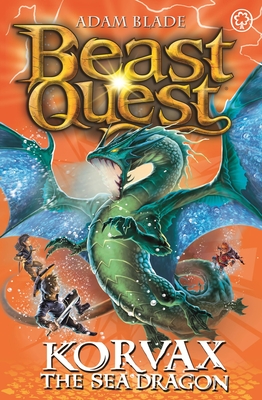 Beast Quest (Paperback)
100: Korvax the Sea Dragon
Orchard Books, 9781408343135, 144pp.
Publication Date: June 20, 2017
* Individual store prices may vary.
Description
Battle fearsome beasts and fight evil with Tom and Elenna in the bestselling adventure series for boys and girls aged 7 and up.
In the frozen waters of Drakonia lurks Korvax the Sea Dragon. Tom and Elenna have to face this fearsome Beast if they are to prevent the Evil Wizard Jezrin from reaching the Well of Power...and becoming unstoppable!
There are FOUR thrilling adventures to collect in this series - don't miss out! Quarg the Stone Dragon; Korvax the Sea Dragon; Vetrix the Poison Dragon and Strytor the Skeleton Dragon.
If you like Beast Quest, check out Adam Blade's other series: Team Hero, Sea Quest and Beast Quest: New Blood!
About the Author
Adam Blade is the name for a small collective of authors who have been writing the bestselling series Beast Quest and Sea Quest for ten years! Beast Quest has now sold over 10 million copies. The newest series from the Adam Blade team is called Team Hero.
You can find out more about all these amazing adventures at the series websites: beastquest.co.uk and teamherobooks.co.uk