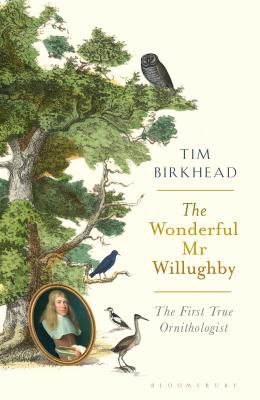 The Wonderful Mr Willughby
The First True Ornithologist
Hardcover

* Individual store prices may vary.
Description
From the author of Bird Sense, a biography of Francis Willughby, the man who pulled the study of birds out of the dark ages and formed the foundations of modern ornithology.

Francis Willughby lived and thrived in the midst of the rapidly accelerating scientific revolution of the seventeenth century. Traveling with his Cambridge tutor John Ray, they decided to overhaul the whole of natural history by imposing order on its messiness and complexity. It was exhilarating, exacting, and exhausting work. Yet before their first book, Ornithology, could be completed, Willughby died in 1672. Since then, Ray's reputation has grown, obscuring that of his collaborator. Now, for the first time, Willughby's story and genius are given the attention they deserve.
In his too-short life, Francis Willughby helped found the Royal Society, differentiated birds through identification of their distinguishing features, and asked questions that were, in some cases, centuries ahead of their time. His discoveries and his approach to his work continue to be relevant--and revelatory--oday. Tim Birkhead describes and celebrates how Willughby's endeavors set a standard for the way birds--and indeed the whole of natural history--should be studied. Rich with glorious detail, The Wonderful Mr Willughby is at once a fascinating insight into a thrilling period of scientific history and an authoritative, lively biography of one of its legendary pioneers.
Praise For The Wonderful Mr Willughby: The First True Ornithologist…
"The attempt to get at what a bird sees, hears, feels and thinks is more than worth the effort because there are so many intriguing facts and stories that the reader learns along the way. Remarkable in [its] celebration of birds." - New York Times (BIRD SENSE)
"Thoughtful, thoroughly researched and engagingly written throughout...Birkhead provides a real flavor of life from a bird's eye view." - New Scientist (BIRD SENSE)
"Excellent book . . . [Birkhead's] intimacy with his avian subjects, and with everything he and centuries of others have observed about them, makes Mr. Birkhead's hypotheses--and his books--so compelling." - Wall Street Journal (THE MOST PERFECT THING)
"I would never have read a book on bird eggs but when I picked up THE MOST PERFECT THING, I thought it was brilliant. It's so wonderful when you come across a book on a subject you're not naturally drawn to and you're completely engaged by it." - Bill Bryson (THE MOST PERFECT THING)
"[Birkhead] writes clearly, with accuracy and wit . . . Birkhead's historical acumen and sharp pen had me seeing eggs in a new light. He has convinced me that they are splendid, if not indeed most perfect." - Nature (THE MOST PERFECT THING)
Bloomsbury Publishing, 9781408878484, 368pp.
Publication Date: July 10, 2018
About the Author
Tim Birkhead is a professor at the University of Sheffield where he teaches animal behaviour and the history of science. He is a Fellow of the Royal Society of London and his research has taken him all over the world in the quest to understand the lives of birds. He has written for The Independent, New Scientist, BBC Wildlife. Among his other books are Promiscuity, Great Auk Islands, The Cambridge Encyclopaedia of Birds which won the McColvin medal and The Red Canary which won the Consul Cremer Prize. He is married with three children and lives in Sheffield.