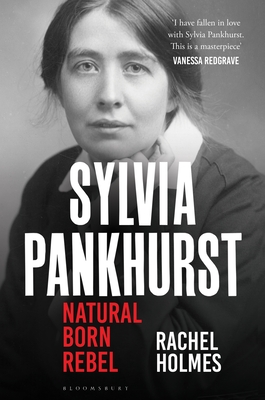 Sylvia Pankhurst
Natural Born Rebel
Hardcover

* Individual store prices may vary.
Description
On the 100th anniversary of the 19th Amendment, the definitive biography of suffragette Sylvia Pankhurst-political rebel, human rights champion, and radical feminist ahead of her time.

Sylvia Pankhurst fought militantly for a woman's right to vote, inspiring movements around the globe. But the vote was just the beginning. A talented artist, a free-spirit, a visionary, Sylvia was seen as "wild," even by the standards of her activist mother and sister. She became a radical feminist, committing herself to the fight for reproductive rights, equal pay, access to welfare and education, and freedom of sexual expression. She converted her experiences of torture, imprisonment, and violence into a lifelong quest to champion human rights.

Encompassing both World Wars and lasting through the Anti-Apartheid Movement, Pankhurst's political life was international in scope; it included Irish independence, pacifism, the rights of refugees, and the fight against racism in Europe, the Indian subcontinent, and colonial Africa. Her United States lecture tours made headlines and connected her with both American feminists and the NAACP. She spent her life in dialogue, dispute, and resolution with Winston Churchill, Vladimir Lenin, Jomo Kenyatta, Haile Selassie, Harriot Stanton Blatch, and W.E.B. DuBois. And she wrote about it all, prolifically.

In this enthralling biography, acclaimed author Rachel Holmes interweaves Pankhurst's rebellious political and private lives to show how her astonishing achievements continue to resonate today.
Praise For Sylvia Pankhurst: Natural Born Rebel…
"Pankhurst, a daughter of Britain's leading suffragist, came by her radical politics naturally. But as this absorbing biography shows, she embraced a precociously modern awareness of gender and class, campaigning tirelessly for the rights of women and workers." - New York Times Book Review (Editors' Choice)

"[A] monumental biography . . . Holmes's effort finally gives Pankhurst her due, bringing to life a woman with a 'terrifying capacity for martyrdom' and a profoundly forward-thinking conception of human rights." - The New Yorker

"[An] excellent and admiring new biography . . . [Holmes'] command of the material, which covers not only suffrage but Pankhurst's involvement in everything from anti-war protest to political turmoil in Russia, India, and Ethiopia (Pankhurst led international protests when fascist Italy invaded the African kingdom), is impressive. The author vividly portrays both the sweep of events and her subject's inner conflicts. Indeed, Holmes excels in showing how Pankhurst's mental turmoil both shaped and drove her, leading to a remarkably forward-thinking understanding of the connections between gender, class, and race." - Wall Street Journal

"Magnificent . . . Richly textured with historical details, crackling with the vibrant personalities of major and minor figures, and interspersed with clear-eyed, incisive analyses of Pankhurst's character and actions, this is a flat-out fabulous biography. History buffs will be mesmerized." —Publishers Weekly (starred review)

"Holmes paints a vivid portrait of a crusading pioneer for women's rights, placing Pankhurst at the epicenters of battles for human dignity throughout the modern era and around the globe . . . Holmes' comprehensive biography can serve as inspiration for new generations of activists." —Booklist

"A spectacular work by one of the most accomplished biographers writing today. Rachel Holmes's Sylvia peels away the mystique and misinformation surrounding the life of perhaps the most interesting and complex of the mighty Pankhurst women." —Anita Anand, author of Sophia: Princess, Suffragette, Revolutionary

"No one writes history quite like Rachel Holmes with her astounding gift for animating the past and revealing its uncanny contemporary relevance . . . Sylvia Pankhurst tells an epic tale of the last century that speaks so presciently to current dark times. The intimate, national and global adventures of this great and brave woman are recounted with color and precision . . . All of human life is here in a perfect read for the hard season to come." —Shami Chakrabarti, author of On Liberty

"Sylvia Pankhurst: Natural Born Rebel is an extraordinary work, a vital and necessary intervention, and an urgent read for our times. Rachel Holmes has written the definitive biography of one of the twentieth century's political giants. . . . [The book] is full of honesty and integrity that shine from every page and reach straight to the reader's heart." - Jacobin

"Holmes is such an engaging writer, and the stories she recounts are so compelling, that reading this massive tome turns out to be a massive pleasure. . . . Today's activists could benefit from reading this detailed and riveting account of a woman whose life exemplified an unwavering commitment to 'deeds, not words.' However, one need not be an activist to find this book a fascinating exploration of the not-so-distant past." - Historical Novel Society

"Captures vividly the drama of a woman with a hunger for the world who did her damnedest to live on the largest terms possible, and to a very considerable degree succeeded." —New York Times Book Review on ELEANOR MARX, Editors' Choice

"A powerful portrait of a radical mind in all its high-keyed intensity." —Wall Street Journal on ELEANOR MARX

"Superb . . . I doubt the reader will close this brilliant biography unmoved by this extraordinary woman's life and untroubled by the inevitable questions it raises about global capitalism now." —Jeanette Winterson, Daily Telegraph on ELEANOR MARX

"Eleanor Marx is both a challenging and a stimulating subject for a biographer. In this widely researched and passionately written book, Rachel Holmes has found an original way of presenting her." —Michael Holroyd on ELEANOR MARX

"Thanks to Holmes' fresh and vital style--not to mention her endearing partisanship--Eleanor Marx: A Life reads less like a biography than a 19th century novel." —Financial Times on ELEANOR MARX
Bloomsbury Publishing, 9781408880418, 976pp.
Publication Date: December 15, 2020
About the Author
Rachel Holmes is the author of Eleanor Marx: A Life, The Secret Life of Dr James Barry and The Hottentot Venus: The Life and Death of Saartjie Baartman. She is co-editor of Fifty Shades of Feminism and I Call Myself A Feminist. She lives in London.