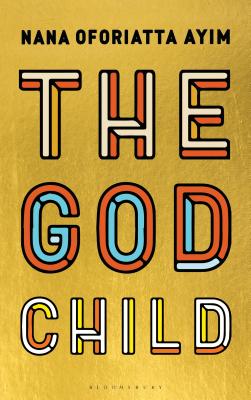 The God Child
Hardcover

* Individual store prices may vary.
Description
"A beautifully told story of family secrets and conflicting cultural expectations." --Booklist (starred review)

"A brave reinvention of the immigrant narrative . . . Cesaire's Notebook meets Duras' Lover. Unprecedented" --Taiye Selasi, author of Ghana Must Go

A moving, mesmerizing, and astoundingly original debut novel by one of the most exciting literary voices to emerge in recent years.

Maya is the only child of an expat Ghanaian couple based in Germany, where as the sole African girl in her school, the pressure is on her to succeed. While her father is taciturn and reserved, her mother-heir to a crumbling dynasty in Ghana-is glamorous and charismatic. Maya is both in awe of and intimidated by her overbearing beauty and her ability to command a room, especially with tales of the family's former glory that seem so far removed from Maya's reality. But when Maya's mother adopts her god child, Kojo, his mission to heal their story begins to bring to Maya the sense of possibility and purpose she has longed for.

The God Child is a coming-of-age story about a young girl finding her freedom in the midst of familial, cultural, and political constraints. With a bracing combination of power and vulnerability, Ayim's debut is about how families, and nations, overcome the limitations of the past through the cycles of generations.
Praise For The God Child…
"A beautifully told story of family secrets and conflicting cultural expectations." —Booklist (starred review)

"A compelling and ambitious novel . . . Through Maya's disjointed experiences of wandering-searching-leaving-returning, Ayim adroitly navigates the lasting consequences of family dysfunction, immigration, colonial legacy, and political upheaval. Part parable, part history, part warning, The God Child is a resonating, intimate drama of family gone awry across a shrinking global stage." —Shelf Awareness

"Meditative, gestural, philosophic: a brave reinvention of the immigrant narrative, unapologetically inward-facing, seductively lyric. Cesaire's Notebook meets Duras' Lover. Unprecedented." —Taiye Selasi, author of GHANA MUST GO

"I read this novel very slowly. I didn't want to miss anything. Maya's story is a journey through Akan history and culture, through migrating and returning home, through colonial subjugation and an assertion of African identity. It is a rich, beautiful book and when I got to the end, I wanted to start again" —Chibundu Onuzo, author of WELCOME TO LAGOS and THE SPIDER KING'S DAUGHTER

"It is a rare kind of woman who enjoys a project so vast that it's practically unfinishable, but Nana Oforiatta Ayim, a Ghanaian gallerist, writer, and historian, never quits what she has started." —Vogue

"Ghanaian art historian, writer, and filmmaker Nana Oforiatta-Ayim is one of the foremost architects of the contemporary African arts scene . . . building a flourishing arts ecosystem." —OkayAfrica

"Immigrant narratives are especially important now, and Nana Oforiatta Ayim's is one to take in fully and carefully. Examinations of family, cultural expectations, secrets, legacy and in(ter)dependence are skillfully woven throughout this extraordinary debut." —Ms. Magazine

"Engrossing and memorable." - Ben Okri, Man Booker Prize-winning author of THE FAMISHED ROAD

"This is a story that is obsessed with stories . . . I sometimes had the sense that there was another narrative running just beneath the surface of the text . . . At times this feeling was thrilling, and at others maddening. Yet isn't this precisely the experience of migration, of trying to situate yourself in contexts that weren't created for you? . . . A story [like this one] will illuminate Ghana's history . . . will coax something whole from the broken parts." —New York Times Book Review

"Expansive and contemplative." - Electric Literature
Bloomsbury Circus, 9781408882429, 256pp.
Publication Date: March 3, 2020
About the Author
Nana Oforiatta Ayim is a writer, art historian, and filmmaker whose work has appeared at the New Museum, the Tate Modern, and elsewhere. As founder of the ANO Institute of Arts & Knowledge, she pioneered a pan-African Cultural Encyclopedia. Recently appointed a TORCH Global South Visiting Fellow at the University of Oxford, she is also the recipient of an Art + Technology Award from LACMA, and the inaugural Soros Arts Fellowship. The God Child is her first novel. She lives in Accra.
or
Not Currently Available for Direct Purchase