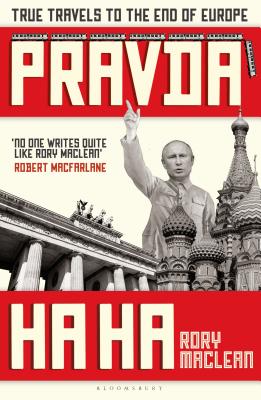 Pravda Ha Ha
True Travels to the End of Europe
Hardcover

* Individual store prices may vary.
Description
An unsettling, timely, and darkly comic exposé of Putin's Russia and European disintegration from highly acclaimed travel writer Rory MacLean.

In 1989 the Berlin Wall fell. In that euphoric year Rory MacLean travelled from Berlin to Moscow, exploring lands that were – for most Brits and Americans – part of the forgotten half of Europe. Thirty years on, MacLean traces his original journey backwards, across countries confronting old ghosts and new fears: from revanchist Russia, through Ukraine's bloodlands, into illiberal Hungary, and then Poland, Germany and the UK. Along the way he shoulders an AK-47 to go hunting with Moscow's chicken Tsar, plays video games in St Petersburg with a cyber-hacker who cracked the US election, drops by the Che Guevara High School of Political Leadership in a non-existent nowhereland and meets the Warsaw doctor who tried to stop a march of 70,000 nationalists. Finally, on the shores of Lake Geneva, he waits patiently to chat with Mikhail Gorbachev.

As Europe sleepwalks into a perilous new age, MacLean explores how opportunists – both within and outside of Russia, from Putin to Home Counties populists – have made a joke of truth, exploiting refugees and the dispossessed, and examines the veracity of historical narrative from reportage to fiction and fake news. He asks what happened to the optimism of 1989 and, in the shadow of Brexit, chronicles the collapse of the European dream.
Praise For Pravda Ha Ha: True Travels to the End of Europe…
"Recounted in poetic prose with context from pop-history and cultural commentary, MacLean's picaresque adventures include poignant reunions and chance encounters with a colorful cast of characters ranging from intellectuals to proletarians, tycoons to destitute migrants . . . MacLean is a sympathetic and perceptive guide, his characters memorable partly for confirming and sometimes subverting stereotypes." - The New York Times Book Review

"Readable and often grimly entertaining . . . Mr. MacLean has an acute grasp how a people's history can be rewritten to reshape its future." - Wall Street Journal

"A trek through Eastern Europe exposes a region in retrograde, as fragile postwar optimism gives way to predatory capitalism and the reanimation of age-old prejudices." —Booklist, starred review

"[Pravda Ha Ha] does 1984 one better, because the dystopia MacLean describes already exists." —Mark Bowden, Air Mail

"MacLean combines vivid reportage with unabashed soapboxing. The result is an engrossing travelogue that's both trenchantly observant and deeply felt" —Publishers Weekly, starred review

"Russia, in MacLean's telling, is a morally diseased place where truth (pravda) has become a joke… he observes that the country's long-running tolerance of political lies has transformed into cultivation of untruth as a form of art, and in a final degradation, to laughter at the very notion of truth. This process, he suggests, has spread over Eastern Europe like a storm front and has left once-hopeful liberalizing states (Hungary, Poland) vulnerable to authoritarian backsliding and manipulation into xenophobia and racism." —American Scholar

"The acclaimed British travel writer and historian retraces his trip after the fall of the Berlin Wall to explore what happened to the hopes and promises of 1989 . . . Featuring his characteristic talent of drawing insight from those he meets, [MacLean] offers fascinating profiles throughout . . . Another engrossing book from an author who is much more than just a travel writer." —Kirkus Reviews

"MacLean's book is immensely readable. The history and politics of Eastern Europe are tackled here with humor and dry wit." —BookPage

"[A] gripping book, part-travelogue, part contemporary history of Europe … MacLean is an accomplished writer; his immersive prose crackles with wit and wry humour, and captures scenes and personalities with aplomb" —Daniel Beer, Guardian

"[Maclean] writes with heart and draws in readers with his captivating experiences. Fans of travelogs, history buffs, and those with an interest in Russia and the former U.S.S.R. will thoroughly enjoy." —Library Journal

"This is a tremendous thing that MacLean is creating; a new kind of history, in several dimensions and innumerable moods, that adds up to – across the span of his books – a great and continuing work of literature" —Jan Morris

"A gem of a book, informative, companionable, sometimes funny, and wholly original. MacLean must surely be the outstanding, and most indefatigable, traveller-writer of our time" —John le Carré

"No one writes quite like Rory MacLean" —Robert Macfarlane
Bloomsbury Publishing, 9781408896525, 368pp.
Publication Date: January 14, 2020
About the Author
Rory MacLean's books, including best-sellers Stalin's Nose and Under the Dragon, have challenged and invigorated travel writing, and -- according to the late John Fowles -- are among works that 'marvellously explain why literature still lives'. He has won the Yorkshire Post Best First Work prize and an Arts Council Writers' Award, was twice shortlisted for the Thomas Cook/Daily Telegraph Travel Book Prize and was nominated for the International IMPAC Dublin Literary award. He is a Fellow of the Royal Society of Literature and a regular contributor to BBC Radio 3 and 4. Born and educated in Canada, he lives with his family in Dorset.