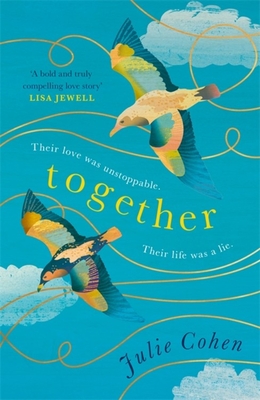 Together (Paperback)
Orion, 9781409171768, 352pp.
Publication Date: June 4, 2019
* Individual store prices may vary.
Description


'This big, clever, tender and twisty love story reminded me of One Day & The Time Traveler's Wife' Erin Kelly, author of He Said, She Said

****

Robbie and Emily have been together for years, but their love is still fresh and fierce. They have shared a bed, a home, a bond so deep it can't be broken. But there are things they don't share, things best left unsaid.

On a morning like any other, Robbie wakes, dresses, writes Emily a letter - and leaves their home for good. There is a secret they've been keeping since the day they met. The sacrifices and choices that have sealed their fates could be exposed, and this is the only way to keep it all hidden...

Is this a great love story or a story about great love?

Whatever you decide, theirs is a story that will never leave you.
About the Author
Julie Cohen grew up in the western mountains of Maine. Her house was just up the hill from the library and she spent many hours walking back and forth, her nose in a book. She studied English Literature at Brown University and Cambridge University and is a popular speaker and teacher of creative writing, including classes for the Guardian and Literature Wales. Her books have been translated into fifteen languages and have sold nearly a million copies; DEAR THING was a Richard and Judy Book Club pick. Julie lives in Berkshire with her husband, son and a terrier of dubious origin.
You can find Julie on Twitter: @julie_cohen or you can visit her website: www.julie-cohen.com.
Praise For Together…
A book club must read - one you'll definitely want to discuss when you've finished reading it.—Prima Magazine

This is a beautifully written and evocative story about two lives, and their great love.—Independent online

This beautiful book is written backwards. Intrigued? You should be, as you'll be sucked into an unforgettable read.—Fabulous Magazine, The Sun

Original, poignant and beautifully told, the novel takes a risk that pays off in spades.—S Magazine

I absolutely loved TOGETHER, a beautiful love story told backwards with a truly shocking secret at its heart—Laura Marshall

Every now and again, a novel comes along that is so different, so affecting and so unforgettable, that you simply must tell everyone you know to read it...you will never forget this one - for all the right reasons.—Heat magazine

Add Julie Cohen's Together to your reading list...prepare for a heart-breaking tale.—Vogue online

A taut, beguiling love-story-in-reverse that reveals just how far people will go to protect themselves from facing the truth—Elle

A must read from Julie Cohen.—Good Housekeeping

A clever, moving page-turner.—Woman & Home