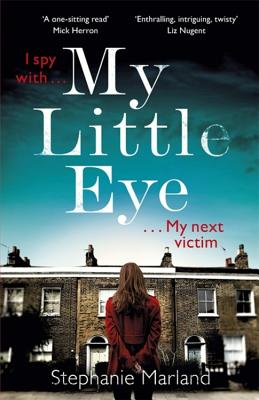 My Little Eye (Starke & Bell) (Paperback)
Trapeze, 9781409171973, 352pp.
Publication Date: February 12, 2019
* Individual store prices may vary.
Description
'This book is AMAZING!!!' Goodreads

'Gripping, what a concept and a thoroughly chilling read! The way the characters evolve and draw you in is spellbinding. Exploring the complexities of life on social media. An epic thriller that's both current and terrifying! 5*' Amazon Reviewer

* * * * *

Perfect for fans of Cara Hunter's Close to Home, Laura Marshall's Friend Request and thrillers by Clare Mackintosh and Robert Bryndza. The thriller with twists you'll never see coming!
* * * * *

Can a group of true crime addicts take on the police to catch a serial killer?
A young woman is found dead in her bedroom surrounded by rose petals - the latest victim of 'The Lover'. Struggling under the weight of an internal investigation, DI Dominic Bell is no closer to discovering the identity of the killer and time is running out.
As the murders escalate, Clementine Starke joins an online true crime group determined to take justice in to their own hands - to catch the killer before the police. Hiding a dark secret, she takes greater risks to find new evidence and infiltrate the group.
As Starke and Bell get closer to cracking the case neither of them realise they're being watched. The killer is closer to them than they think, and he has his next victim - Clementine - firmly in his sights.
* * * * *
What readers are saying about My Little Eye:
'My Little Eye is a bang on psychological thriller of the most addictive kind.' Goodreads
'Beautifully paced writing that had me speeding through every chapter at a rate of knots. Easily one of my favourite reads this year so far.' Goodreads
Would I recommend this book? Oh YES! Yes! Yes! You better believe I would! My Little Eye had a Luther-esque feel to it but it's unique, risky, dark and addictive story really got under my skin. Can't wait for the next in this series!' Amazon Reviewer
* * * * *
'My Little Eye is an enthralling, intriguing and twisty tale for all of us armchair detectives who think we know it all.' Liz Nugent, author of Lying In Wait and Unravelling Oliver
'A masterclass in pacing & such an original take on the serial killer thriller.' - Eva Dolan, author of This Is How It Ends
About the Author
Stephanie Marland has worked in the University sector for over ten years and published research on how people interact and learn together in virtual environments online. She's an alumni of the MA in Creative Writing (Crime Fiction) at City University London, and an avid reader of all things crime fiction, blogging about books at www.crimethrillergirl.com. Steph also writes the Lori Anderson action thriller series (as Steph Broadribb) for Orenda Books, the first book Deep Down Dead is out now.
Praise For My Little Eye (Starke & Bell)…
My Little Eye is an enthralling, intriguing and twisty tale for all of us armchair detectives who think we know it all.—Liz Nugent, author of LYING IN WAIT and UNRAVELLING OLIVER

This is a multi-layered, gripping read steeped in authenticity that will keep you up at night.—Catherine Ryan Howard, author of DISTRESS SIGNALS

Ingeniously plotted and perfectly chilling, Marland knows how to ratchet up the tension and keep her readers balancing on the edge. A dark, mysterious thriller with characters you can't wait to meet again. I loved it.—Susi Holliday, author of THE DEATHS OF DECEMBER

An original and compelling take on the serial killer story.—Rod Reynolds, author of BLACK NIGHT FALLING

A masterclass in pacing & such an original take on the serial killer thriller—Eva Dolan, author of This Is How It Ends

A fabulous new book from a very talented writer. My Little Eye is an original, twisty take on the serial killer thriller. Deftly plotted, authentic and creepily plausible. I won't look at rose petals in the same way ever again...—Amanda Jennings, author of THE CLIFF HOUSE

A clever, twisting, nightmare-inducing read, I couldn't put this one down—Chris Whitaker, author of ALL THE WICKED GIRLS

A great premise which sets up lots of twisty, paranoid intrigue. Top notch.—Mason Cross

My Little Eye should be a contender for anyone's book of the year - it's certainly one of mine. It's fresh, original, has a rip-roaring plot and is totally addictive. In Clementine Starke and Dominic Bell, Marland has created intriguing lead characters to rival the best in crime fiction.—David Young, author of STASI WOLF

The first novel in what promises to be a riveting new series, My Little Eye is a one-sitting read: gripping, clever and worryingly plausible.—Mick Herron