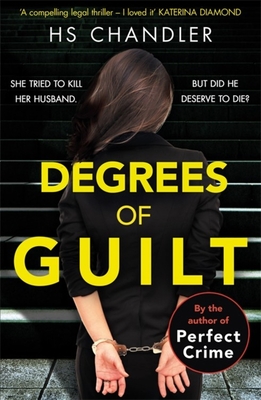 Degrees of Guilt (Paperback)
Trapeze, 9781409178217, 368pp.
Publication Date: November 19, 2019
* Individual store prices may vary.
Description
'A compelling legal thriller - I loved it' Katerina Diamond, Sunday Times bestseller
'Timely, anger-inducing and very powerful - it's excellent' Harriet Tyce, author of Blood Orange

When you read this book, you will think you know every twist in the tale.
Maria is on trial for attempted murder.
She has confessed to the crime and wanted her husband dead.
Lottie is on the jury, trying to decide her fate.
She embarks on an illicit affair with a stranger, and her husband can never find out.
You will think you know who is guilty and who is innocent.
You will be wrong.
A gripping, sexy and twisty novel for readers who devoured ANATOMY OF A SCANDAL, APPLE TREE YARD and HE SAID/SHE SAID.
About the Author
A former barrister, HS Chandler practised for thirteen years in both family and criminal law. Having extensively prosecuted and defended, she is an avid believer in the right to a fair trial, and in the invaluable role that juries play in the British legal system.
Praise For Degrees of Guilt…
Degrees of Guilt is pacy, raw and darkly unpredictable. Compulsive reading for psychological thriller fans.—Isabel Ashdown, author of Little Sister

Timely, anger-inducing and very powerful - it's excellent.—Harriet Tyce, author of Blood Orange

Superbly narrated, this is a powerful novel that combines an absorbing story with an unusually nuanced look at the world of coercive control.—WI Life magazine

Gripping, timely and moving.—Roz Watkins, author of The Devil's Dice

Deliciously devious, propulsive and compulsive, Degrees of Guilt grabs you from the first chilling chapter and refuses to let go.—Neil Broadfoot

Clever, layered storytelling with a thought-provoking premise and a razor sharp execution.—Liz Loves Books

An absolute must-read - I couldn't put it down!—Alison Belsham

A sexy courtroom thriller—That?s Life magazine

A powerful read - we managed to complete it in one sitting!—Closer magazine

A fast-paced, addictive read that you won't be able to put down.—Caroline Mitchell

A compelling psychological thriller with a generous portion of crime room drama. I couldn't put it down!—Jane Isaac