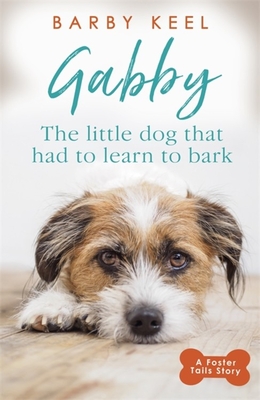 Gabby
The Little Dog that had to Learn to Bark (A Foster Tails Story)
Paperback

* Individual store prices may vary.
Other Editions of This Title:
Paperback (1/28/2020)
Description
An emotional, joyful true story of the deepest bond that exists between humans and animals.

In the 54 years she has run the Barby Keel Animal Sanctuary, deep in the Kent countryside, Barby has taken in all manner of animals in need of love, care and a second chance at life. She thinks she's seen it all until Gabby, a scruffy, golden-haired terrier, arrives on her doorstep.

Trembling, her eyes wide with fear, Gabby is unable to play with other dogs and is completely mute. When Barby discovers that Gabby has been kept locked indoors her whole life, all becomes clear - Gabby has never learnt to be a dog.

Soon Barby has fallen in love with this strange little mutt and is determined to help her connect with her true nature. But when tragedy befalls Barby, it is not only Gabby but the entire animal sanctuary that's at stake...
Trapeze, 9781409182306, 240pp.
Publication Date: May 21, 2019
About the Author
Barby Keel has run an animal sanctuary in the countryside in Sussex for 54 years. At the age of 28 Barby bought four acres of land for £1400, built her own home brick by brick, and then dedicated her life to caring for the animals who were often dumped at her door.
Barby is working with Cathryn Kemp, Sunday Times bestselling writer, award-winning author and a former journalist. She has written across the spectrum of the British press, both tabloid and broadsheet, and online, and for many magazines. In 2002 she won the Peter Wilson Award for Journalism before running her own press agency writing for radio and television. She is the author of Coming Clean: Diary of a Painkiller Addict, published by Piatkus in 2012, which won the Big Red Read Prize for non-fiction in 2013. Cathryn has written seven other titles, including Jam Butties and a Pan of Scouse, We Ain't Got No Drink, Pa and A Fish Supper and a Chippy Smile.
or
Not Currently Available for Direct Purchase